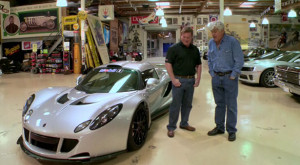 For car enthusiasts, few things are more alluring than looking at cars, whether they're muscle cars, classic cars or sports cars. For some, it is about power. For some, it is about control. For others, it is about style. Some are even attracted to the freedom. Whether you appreciate the craftsmanship or the performance on the road, you can never get enough as a car enthusiast.
If you are working on your own car collection or just pining for the day when you can start, get inspired with thoughts of other great collections across the United States. To whet your appetite, consider these four spectacular collections.
1. Jay Leno.Jay Leno is known for his late night comedy but, among car enthusiasts, Leno has a different standing altogether. While Leno built a career on the television, he amassed a massive car collection at his California home. With over 100 vehicles in his collection, Leno has specially altered his garage to support his hobby. This is nothing compared to the cars themselves. The selection includes rare and exotic cars, including Ferraris, McLarens, Duesenbergs and Lamborghinis. To keep things interesting, Leno is known to drive each of his vehicles, even the rarest ones.
2. Ralph Lauren.Ralph Lauren is a known name in the fashion industry. However, his good taste extends far beyond dresses and suits. Lauren's car collection rivals Leno's thanks to some of his rare additions. In fact, Lauren has a McLaren F1LM, a vehicle so rare that only five were produced. Other cars in his collection include Veyrons, Ferraris 250 Testa Rossas and more. His collection is so desirable that he occasionally loans out portions to museums, enabling everyone a chance to see his incredible cars.
3. LeMay America's Car Museum. While many enviable collections are private, some are open to the public. This is the case with the LeMay America's Car Museum. Located in Tacoma, Washington, America's Car Museum features a range of impressive vehicles. It is one of the largest car museums in the United States, displaying up to 165 vehicles at any given time, though the actual selection rotates consistently. Common exhibits have featured Ferraris, British cars, Indy cars, classic cars and more. The museum was started by Harold LeMay, who also has a private collection of his own nearby.
4. Ken Lingenfelter. One of the best collections in the United States is one most people have never heard of. This collection is run by Ken Lingenfelter, who has over 200 vehicles. A good portion of his collection is made up of vintage Corvettes, but he also has a Bugatti Veyron and a Pontiac Can Am. His most impressive vehicle, however, is the Corvette Duntov Test Mule EX-8. Lingenfelter does not open his collection to the public, but he does sometimes display vehicles at charity events.
Most people cannot afford collections like these, but these collections remind collectors of all statures to keep dreaming big. Remember that all of these collectors started small and built their collections over time.
Bob Miller is a car enthusiast and enjoys sharing his knowledge with others