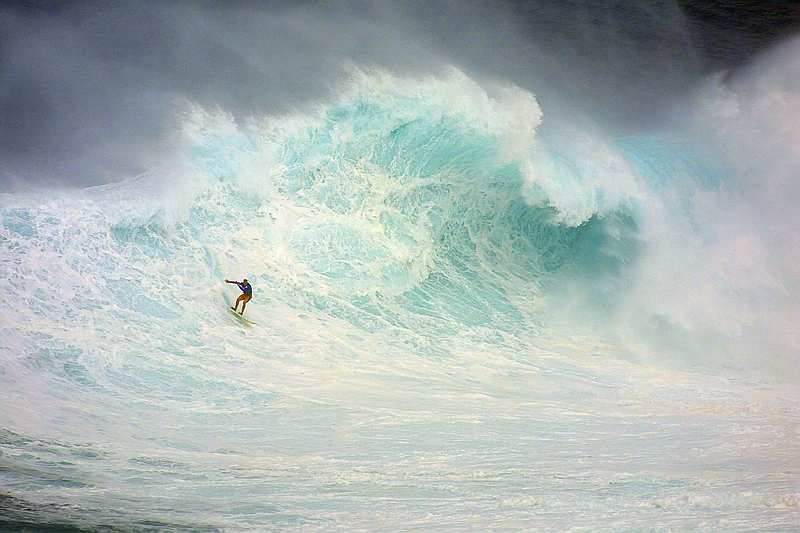 Big Wave surfing EXTREME at Jaws, Maui. Visit www.bissac.com – NEXT GENERATION OF HANDBAGS!
Big wave tow-in surfing footage @ JAWS, Maui.
— PART 1 / 3 —
Surfers with a DEATH WISH! All the insane surf you can eat! Winter Season 2004/05 Surfer: Yuri Soledade
The sickest deadliest waves on the craziest swell at the stokiest location! Surfers with a DEATH WISH in this video!!
Jaws is the name given a beach near the town of Peahi on the island of Maui in the US state of Hawaii. It is on the northern side, located between mile markers 13 and 14 on Hana highway. It sits at the base of rolling sugar cane field hills.
The beach is called "Jaws" due to the size and ferocity of the waves. The waves at Jaws have been described as being in excess of thirty feet, and moving as fast as twenty-five miles per hour.
Surf at Jaws only reaches these levels during the winter months (primarily between December and February). Also, special conditions concerning the wind and the flow of swells elsewhere in the ocean must all come together in order for the surf to reach such huge levels. In addition to all the very specific weather and oceanic conditions, what makes the surf so large at Jaws are its specific geographic (that is, under the water, or the surf break) conditions.
Hamilton is quoted in Laird: White Knuckle Extreme saying that he and others are looking over topographical maps, trying to find other beaches throughout the world with the same characteristics. One beach found in this manner is Teahupoo, Tahiti.
MUSIC CREDIT : Xarj https://www.xarj.net/
VIDEO CREDIT : PureDigital Maui
TEXT CREDIT : Wikipedia
VIDEO : YouTube

VIDEO - BIG WAVE SURFING at JAWS MAUI - EXTREME - Part 1 of 3
[ 3:56 ]
Play Now
|
Play in Popup
|
Download
(2555)