Video is from Les Fetes de Bayonne 2005 ! I wanted to post a message regarding the Fetes de Bayonne because i am on my way there for the 2006 fiesta in the Pays Basque! Starts August 2 end Sunday August 6. Come and join the millions of people that go there every year. I'll also spend a lot of time on the beach working on my tan and hopefully taking some great waves with my bodyboard.
Check out the official Fetes de Bayonne website : http://www.fetes.bayonne.fr/
Date : August 2, 2006
filmed / edited by Arnaud J.
See all my other great videos ; lots of surfing in the South France and some music video clip from soon to be famous music artists!
Websites :
https://www.xarj.net
http://www.xarj.com
filename : 2006_08_01-Podcast-fetes-bayonne_500.mov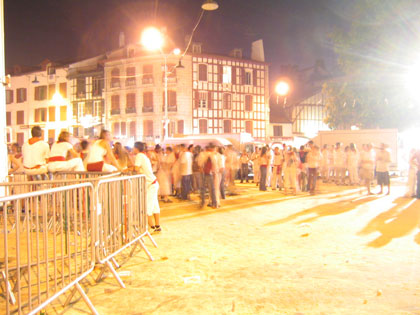 VIDEO - Fetes de Bayonne - Crazy French Party
[ 1:15 ]
Play Now
|
Play in Popup
|
Download
(1850)