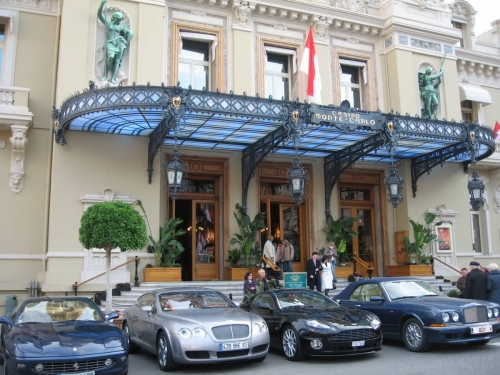 Monaco, Monte-Carlo Picture Galleries
Photos taken during my European Road Trip
About my Trip in Monaco Monte-Carlo ::
Everyone has heard of the Monte Carlo Casino in Monaco. It's the most famous Casino in the world and stars in the latest James Bond movie. On the photo you see the main entrance of the casino with the 1989 Ford Fiesta we decided to call "Grace" after a girl we met in Florence. The front parking lot housed some of the most expensive cars in the world; Porche, Ferrari, Lamborghini etc… It was pretty incredible to get this photo, some of the guards reacted quickly to the invasion of Grace.
About Monaco Monte Carlo from Wikipedia ::
Monaco is the world's most densely populated country and second-smallest independent nation; with a population of just 32,410 and an area of 1.96 square kilometres (485 acres), Monaco is the world's smallest French-speaking polity.

One of Monaco's main sources of income is tourism; each year many are attracted to its casino and pleasant climate. In 2001, a major new construction project extended the pier used by cruise ships in the main harbour. The principality has successfully sought to diversify into services and small, high-value-added, non-polluting industries such as cosmetics and biothermics.

Monaco is one of the most expensive places on Earth. As of February 2007, Monaco had Europe's most expensive real estate, ahead of even London. The principality is often regarded as a tax haven, and most of its inhabitants are millionaires from other countries.

The state retains monopolies in numerous sectors, including tobacco and the postal service. The telephone network (Monaco Telecom) used to be owned by the state; it now owns 45%, while the remaining 55% is owned by Cable and Wireless (49%) and Compagnie Monégasque de Banque (6%). It is still, however, a monopoly. Living standards are high, roughly comparable to those in prosperous French metropolitan areas.
Monaco Links :: Monaco Official Site :: Monaco Monte-Carlo :: CIA World Fact Book
Photo Galleries Trip to Monaco ::
Europe Trip :: Monegasque Picture Gallery :: MONACO
Video in front of the Monte Carlo Casino ::

MONACO MONTE CARLO
[ 0:41 ]
Play Now
|
Play in Popup
|
Download
(594)