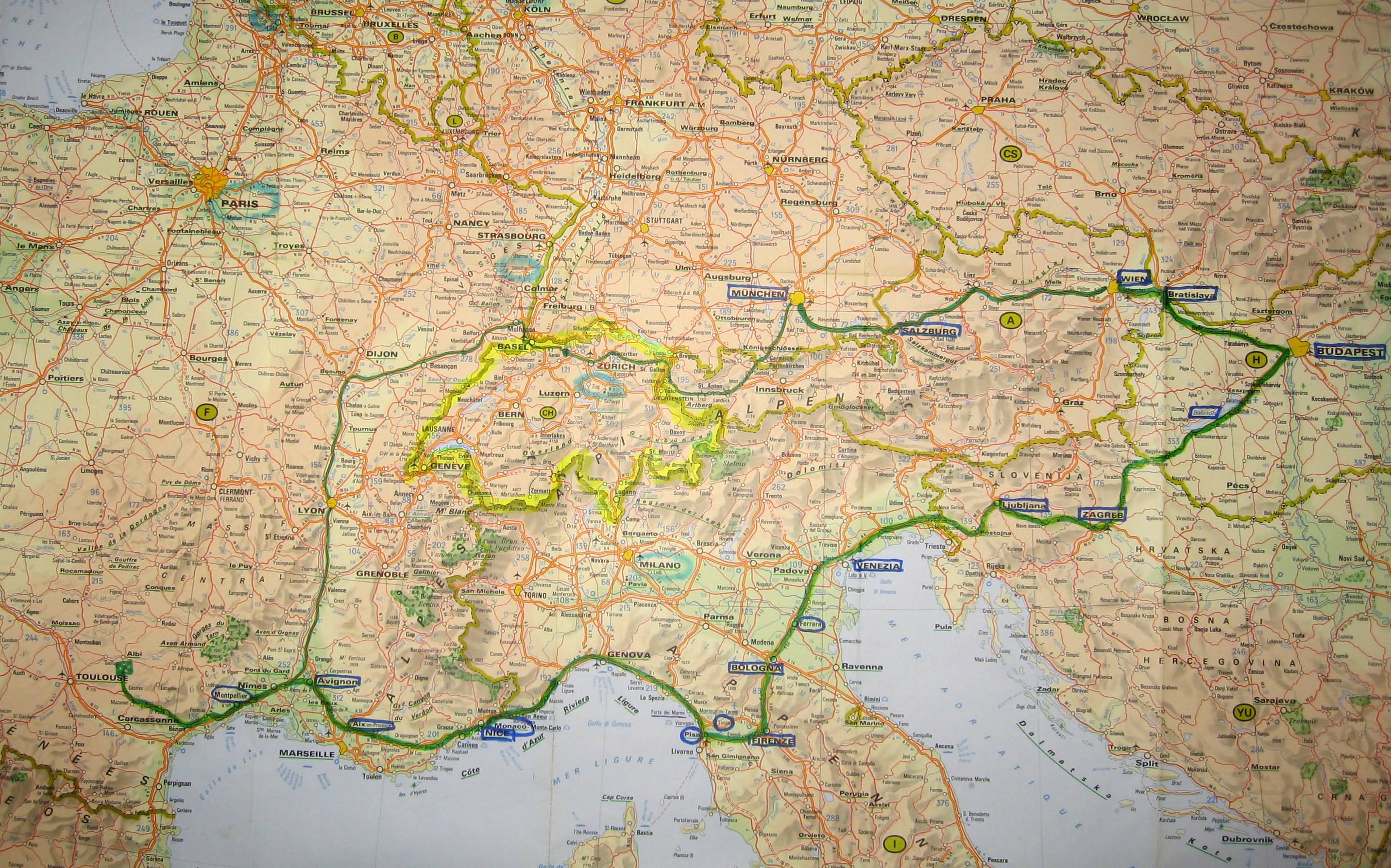 EuroTrip Map :: click to enlarge

I'll be leaving Tuesday, 13 of November 2007 for a 4 weeks trip towards Eastern Europe!
Voila the cities that i will visit during my long voyage :
Toulouse, France
Albi, France
Montpellier, France
Avignon, France :: 3h07 :: 332 km :: Tolls 23.10 EUR :: Fuel 29.86 EUR
St-Raphael, France
St-Tropez, France
Cannes, France
Nice, France
Monaco, Monaco :: 2h43 :: 283 km :: Tolls 23.90 EUR :: Fuel 26.12 EUR
Pisa, Italy :: 3h45 :: 348 km :: Tolls 27.90 EUR :: Fuel 36.76 EUR
Lucca, Italy
Florence, Italy :: 1h18 :: 108 km :: Tolls 5.40 EUR :: Fuel 10.40 EUR
Bologna, Italy
Venice, Italy :: 3h20 :: 262 km :: Tolls 13.70 EUR :: Fuel 26.61 EUR
Ljubljana, Slovenia
Zagreb, Croatia :: 4h29 :: 379 km :: Tolls 13.58 EUR :: Fuel 39.57

Lake Balaton, Keszthely, Hungary
Budapest, Hungary :: 3h47 :: 348 km :: Tolls 4.89 EUR :: Fuel 31.64 EUR :: Road Tax 10 EUR

Bratislava, Slovakia
Vienna, Austria :: 2h22 :: 244 km ::Fuel 22.49 EUR :: Road Tax 17.64 EUR
Salzburg, Austria
Munich, Germany :: 4h22 :: 406 km :: Fuel 36.55 EUR :: Road Tax 7.60 EUR

Stuttgart, Germany :: 4h31 :: 434 km :: Fuel 40.59 EUR :: Road Tax 34.60 EUR

Macon, France :: 2h53 :: 316 km :: Tolls 20.90 EUR :: Fuel 28.54 EUR
Toulouse, France :: 5h28 :: 607 km :: Tolls 44.30 EUR :: Fuel 54.44 EUR

Total Hours :: 50 hours
Total km :: 4600 km
Total Tolls :: 177.67 EUR
Total Fuel :: 383.57 EUR
Total Road Tax :: 69.84 EUR
TOTAL FOR CAR USE :: 631.08 EUR
**Update December 16 :: GRAND TOTAL FOR ME :: 1607 EUR — Normally Samy spent as much as I and even more since he bought numerous gifts to offer for Christmas and I didn't.
So the Grand Total for both of us for 27 days of fun travelling :: 3200 EUR — ouchhhhhh!!!
25 cities in 9 countries in 4 weeks! Impressive list! Start on November 13th and return on December 10th, 2007. It's winter so there will be snow in some places like Budapest. We are driving around the Alps but sometimes the altitude will rise to 1000 meters!
I'm going with Samy Hersant, a French / Canadian friend. We are driving approximatly 4600 kilometers in a 1989 Ford Fiesta. We had to change the breaks and oil but the garage also recommended that we replace the mechanical belt. The car has 130,000 km and the belt has never been changed! It's 400-500 euros to replace! Almost the price of the car! I called the insurance company who gave me a phone number in case the car dies. But it won't happen! Think positive!
It didn't happen! 🙂
I'll try to connect from cyber cafes to keep you up to date on the trip !!
Wish us Luck !!! 😉
—————————–
Day 1 :: Tuesday, November 13
300 km :: Laboutarié, Montpellier, Avignon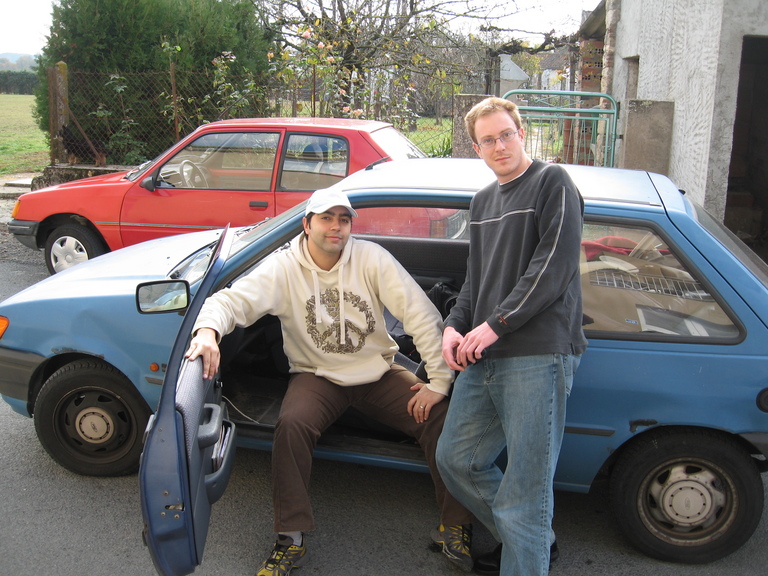 Samy and I before departure for our Europe Road Trip in Laboutarie posing in front of the marvelous 1989 Ford Fiesta. Departure Tuesday November 13th, 2007. The car has 134,000 km.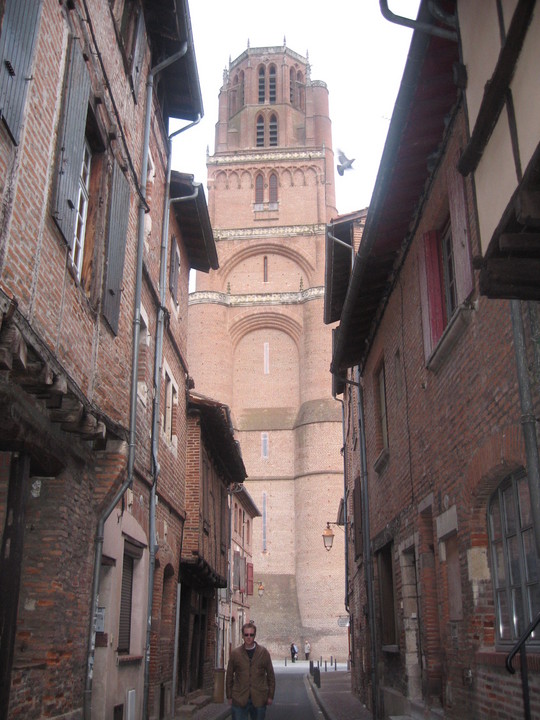 Arnaud in front of the Sainte Cécile cathedral in Albi. We visited Albi before our departure.
View the extra Photo Gallery in ALBI
More info about Albi on Wikipedia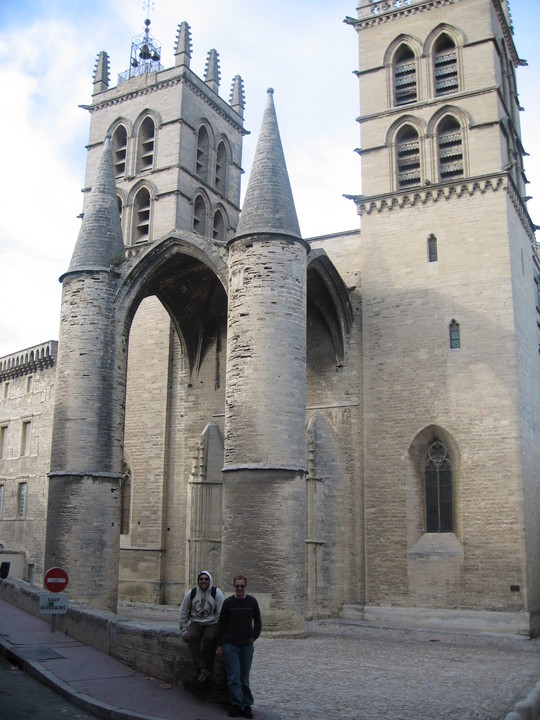 Impressive Montpellier Cathedral Saint-Pierre
First stop in Montpellier for a 2 hour walk in the old city.
View the extra Photo Gallery in MONTPELLIER
More info about Montpellier on Wikipedia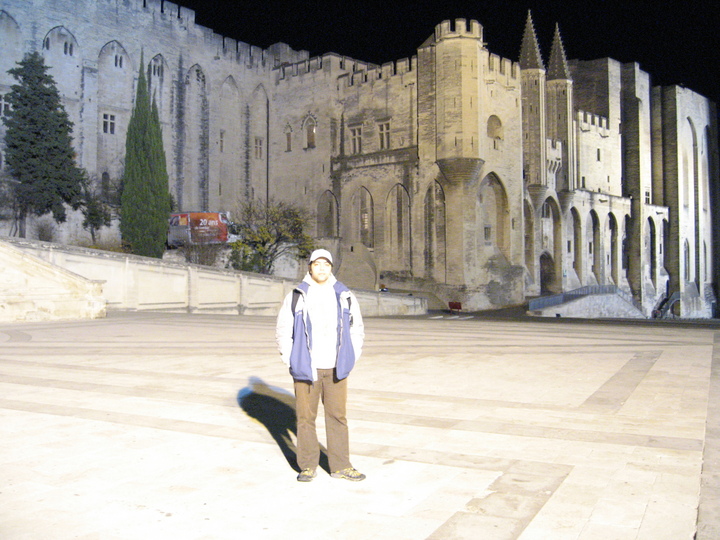 Samy in front of the Palais des Papes (Palace of the Popes) in Avignon
We got to Samia's place (Samy's aunt) in the evening and went to Avignon at night for a first glimpse of the city. Car now has 134,300 km.
View the extra Picture Gallery in AVIGNON
More info about Avignon on Wikipedia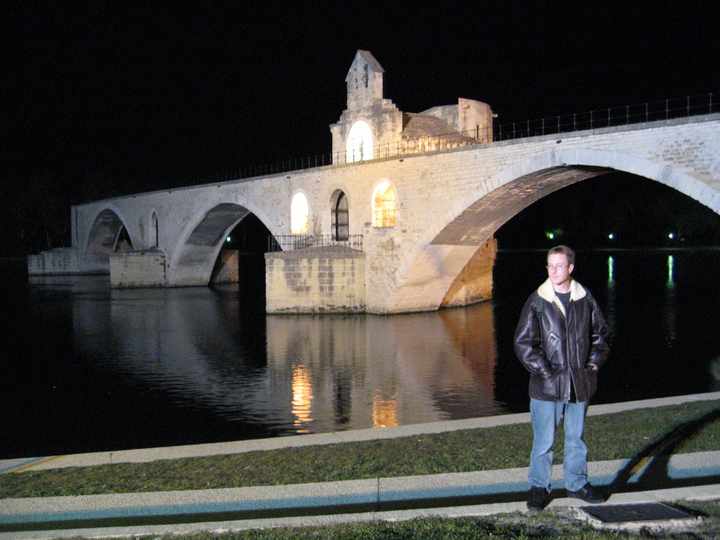 Xarj posing with the Pont d'Avignon
I had already seen Avignon and had previously walked on the Avignon bridge. Cost is 5 EUR to walk on the bridge! Samy thought it was scandalous to charge so much money and he's right.
.
Day 2 :: Wednesday, November 14
550 km :: Avignon, Fréjus, St-Raphael
Tonight we are sleeping at the Frejus Youth Hostel next to St Raphael.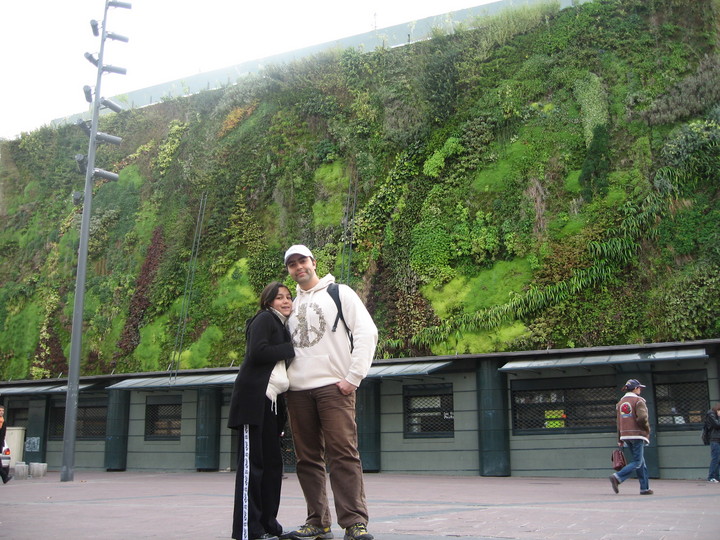 Samy and his cousin Naomi in Avignon
Behind, a vertical garden. Living plants on the wall in Avignon.
.
Day 3 :: Thursday, November 15
730 km :: Fréjus, St-Tropez, Cannes, Antibes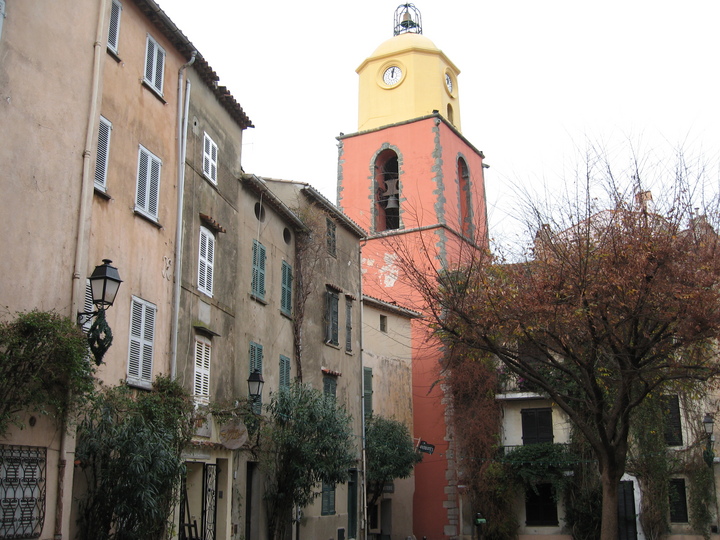 Colorful Church in St Tropez
You probably heard of St Tropez as a city attracting wealthy and famous people. You might know the TV show "Sous le Soleil" picturing the city as a paradise were it never rains and the girls are beautiful on the beach. We were hoping to be the first to see rain in St Tropez but it didn't even happen. Clouds but no rain. 🙁 I thought it would be a much larger city but we visited the center in 30 minutes and spent another 30 minutes admiring the million euro yachts.
View the extra Photo Gallery in SAINT TROPEZ
More info about St Tropez on Wikipedia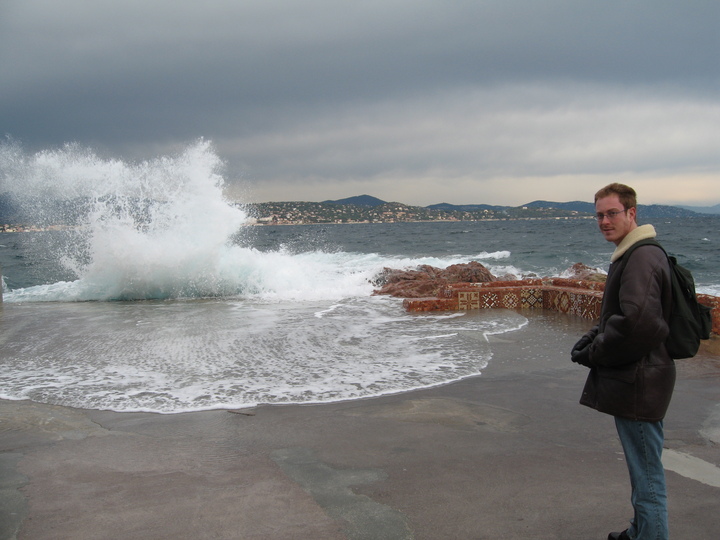 Water Front in St Tropez
Samy the photograph was able to take the picture while a wave crashed on the shore.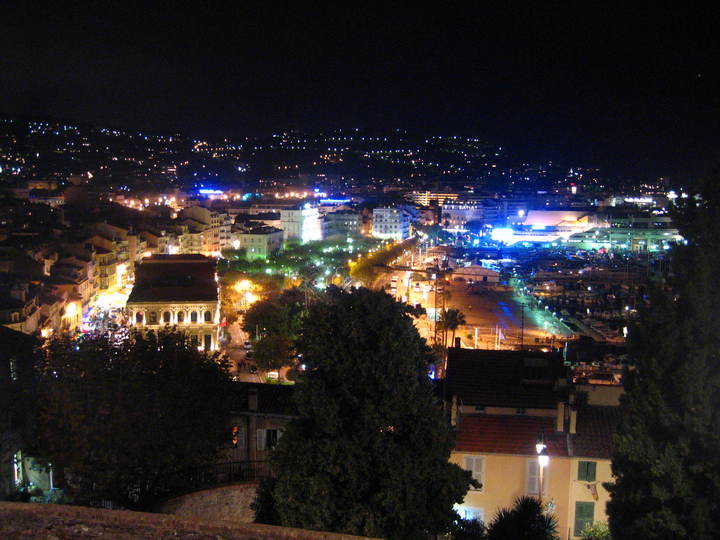 City of Cannes at Night
We didn't see any celebrity and i found out that the city of the Cannes Film Festival only has 3 cinemas and all very small. Very disapointing but I enjoyed our walk in the city.
View the extra Picture Gallery in CANNES :: Arrival in Cannes, we have driven 731 km.
More info about Cannes on Wikipedia.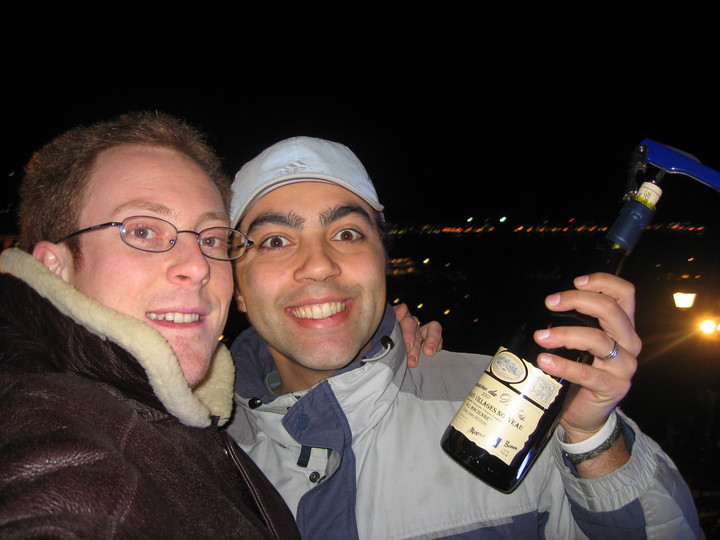 The boys getting ready to taste the 5 EUR wine Beaujolais Nouveau 2007 on top of the hill in Cannes. Thanks to the messed up weather conditions all around the world, 2007 is a very good year for wine.
.
Day 4 :: Friday, November 16
1082 km :: Antibes, Nice, Monaco, Italy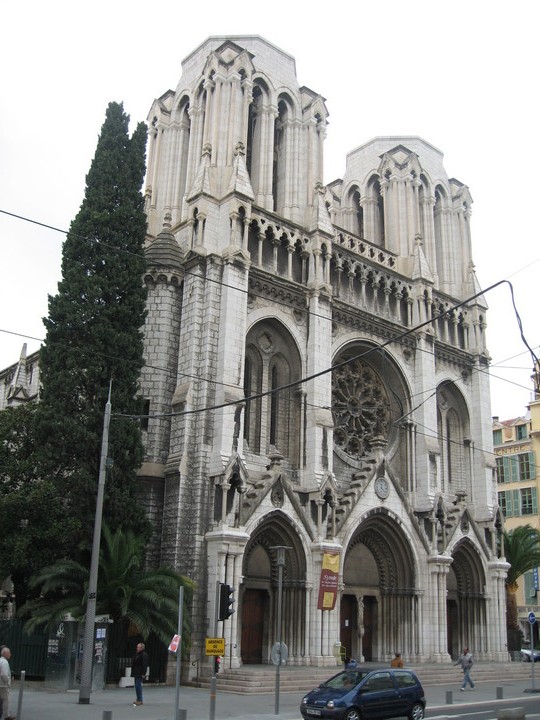 Church in Nice.
View the extra Photo Gallery in NICE
More about Nice on Wikipedia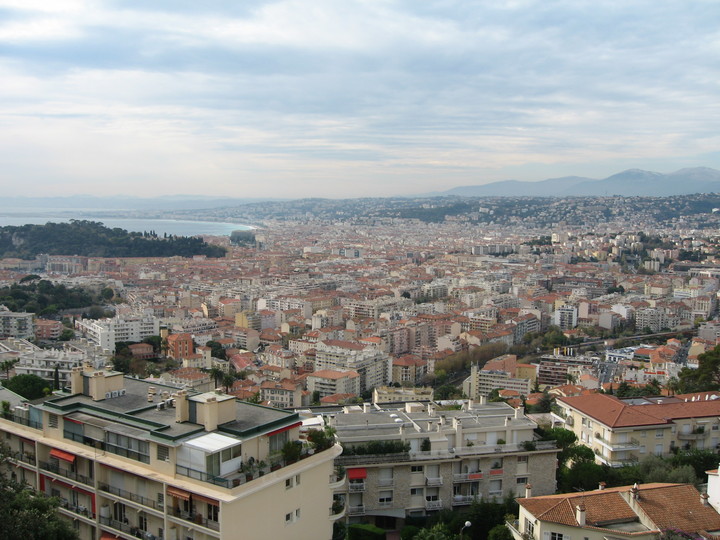 City of Nice from the mountains.
To get to Monaco from Nice, we had to drive up the mountains where the view of Nice is really impressive. Looks extremely dense in the city.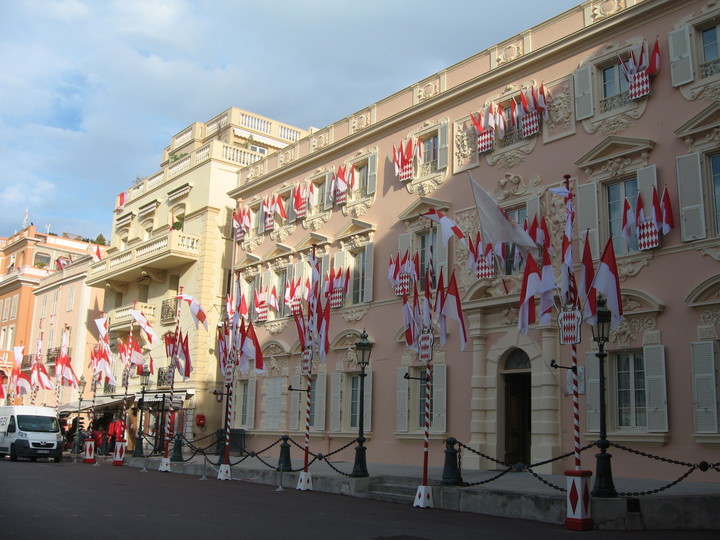 Flags in Monaco Monte Carlo
Have you ever seen so many flags on a building? WOW! They are all over the place in the city of the Grimaldi Royal Family. The city is extremely clean.
View the extra Photo Gallery in MONACO
More about Monaco Monte Carlo on Wikipedia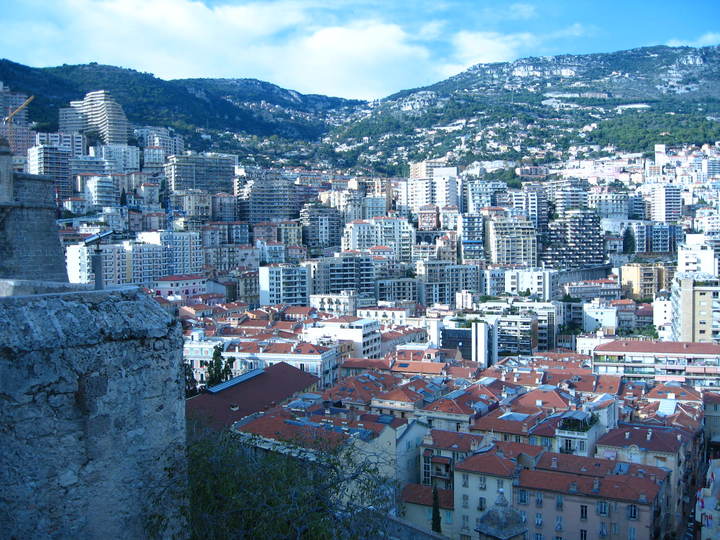 Monaco Monte Carlo is a dense city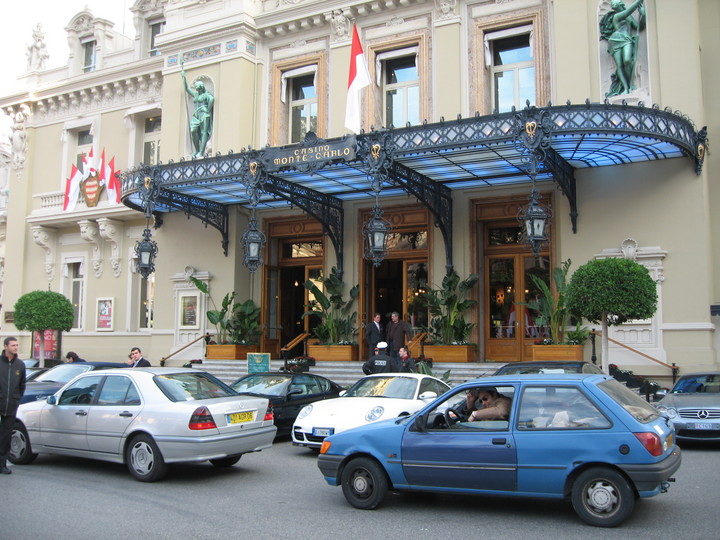 Our luxurious car in front of the Monte Carlo Casino
Everyone has heard of the Monte Carlo Casino in Monaco. It's the most famous Casino in the world and stars in the latest James Bond movie. On the photo you see the main entrance of the casino with the 1989 Ford Fiesta we decided to call "Grace" after a girl we met in Florence. The front parking lot housed some of the most expensive cars in the world; Porche, Ferrari, Lamborghini etc… It was pretty incredible to get this photo, some of the guards reacted quickly to the invasion of Grace.
More info about Monaco on Wikipedia

Our first car trouble in Italy
After Monaco, Italy! We take the highway towards Italy and as soon as we pass the first toll, the warning lights for oil start flashing! We stop at the side of the highway and open the hood. Oil is leaking and there's very little left inside the engine. We are able to reach a gas station near the highway and add some oil. This will allow us to get to the nearest garage in the city of Ventimiglia in Italy. So close to the French border, the Italians speak more French then English. The guy accepts to look at the car at 16-17h. On the photo, you can see a ferrari being fixed next to Grace (the car's name). After two hours, Grace is fixed and ready to go! OUFFFFFFFFFFFFFFFF… Big scare! We thought the trip was already over after only 4 days! The guy charges us 50 EUR cash without receiving any bill or proof of the service. It cost an extra 25 EUR if we wanted the bill. An Italian helping the black market, Surprise! Lucky for us, we had exactly 50 EUR cash, so now we got no liquid money to continue into Italy. But we were damm happy the problem was fixed! Thank you garage Italian guy!
.
Day 5 :: Saturday, November 17
1200 km :: Toscany, Lucca, Pisa, Florence in Italy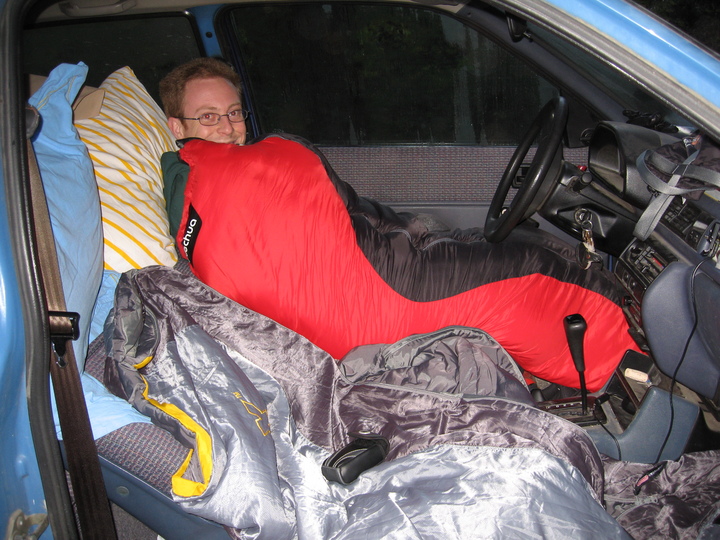 First and last night sleeping in the car
That's me sleeping in the car in our high end sleeping bags good at temperatures of -5 degrees. After our car troubles, we decided to hit the road and try to drive as much as we could at night to get closer to Pisa. Italians are CRAZY on the highways! They drive like they are alone on the road! Most of the cars overtaking us were using their high beam lights! Bastards! Samy was driving and he would always flash back at them! Unbelievable! That really pissed us off. We decided to find a place to sleep in the car near the ocean in Toscany. Found the perfect quiet forest.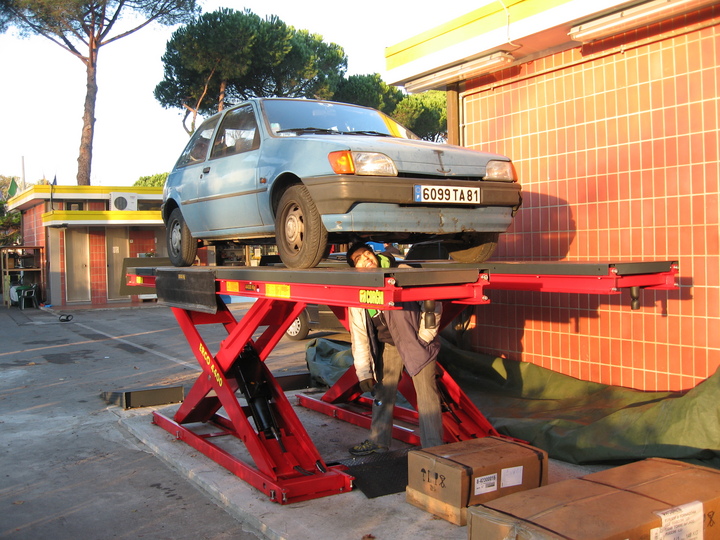 More problems with the Ford Fiesta in Italy!
In the morning, we woke up at 7 am in the car and drove off to Pisa. We went to an AGIP Gas station to add some fuel. Samy asked for "Gas" and the guy put diesel into the car! IT NEEDS UNLEADED 95 octane! Crap, already another problem! Lucky for us the Italian guys were nice enough to empty the tank and fill it back up with the right fuel. Grace would drive a little differently for the next couple hundred kilometers. Some diesel must have been left… Now she's back to normal like nothing happened! That Ford is invincible!
Info about Tuscany on Wikipedia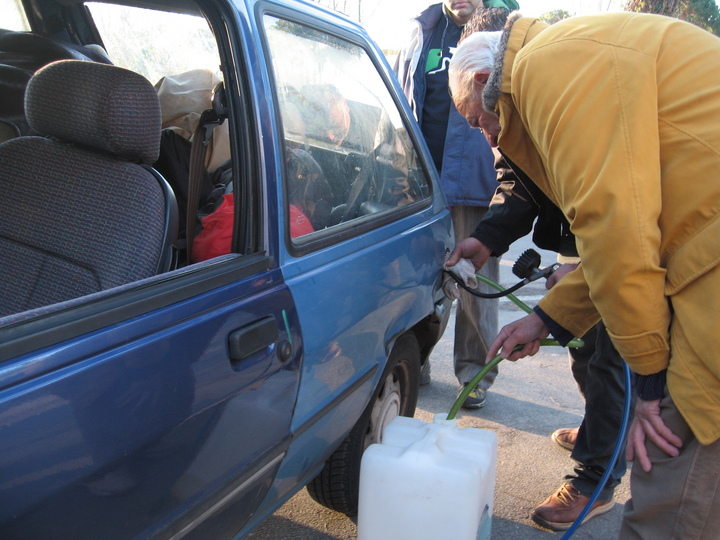 The workers at the gas station all came to watch and help out with the important mission of removing the diesel fuel. In that region, the Italians did not speak french or english. It was real hard to make ourselves understood.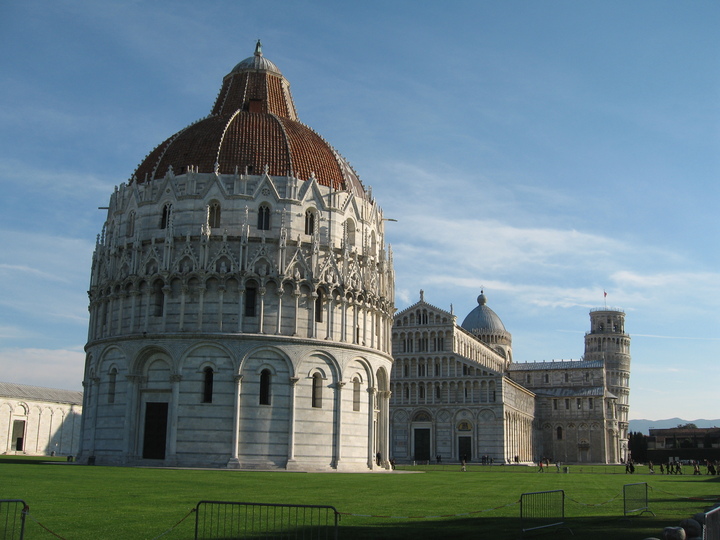 Beautiful medieval buildings of Pisa
We get to Pisa Italy! The area is very clean and the buildings are well maintained. Lots of tourist shops and African guys selling counterfeit watches. What you see on the photo above is all there is to see in Pisa. You need 2-3 hours MAX to visit, 1h30 for us.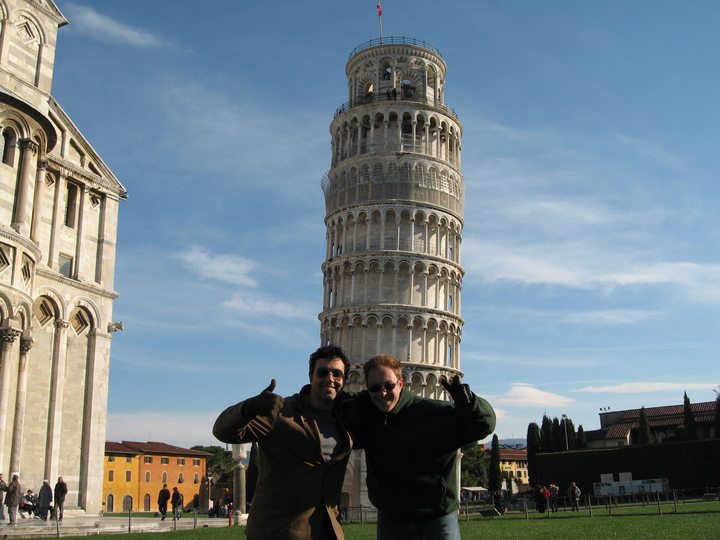 Arnaud and Samy on the Forbidden grass at the Pisa Tower
Lots of Japanese people taking photos on the forbidden grass. Pretty impressive to see how much the Pisa tower actually leans! They stopped it's progression not too long ago, otherwise it would have crashed down! We find our first parking ticket waiting for us on the car windshield. Looks just like a bill i'd get at McDonalds. Weird.
View the extra Photo Gallery in PISA
More info about Pisa on Wikipedia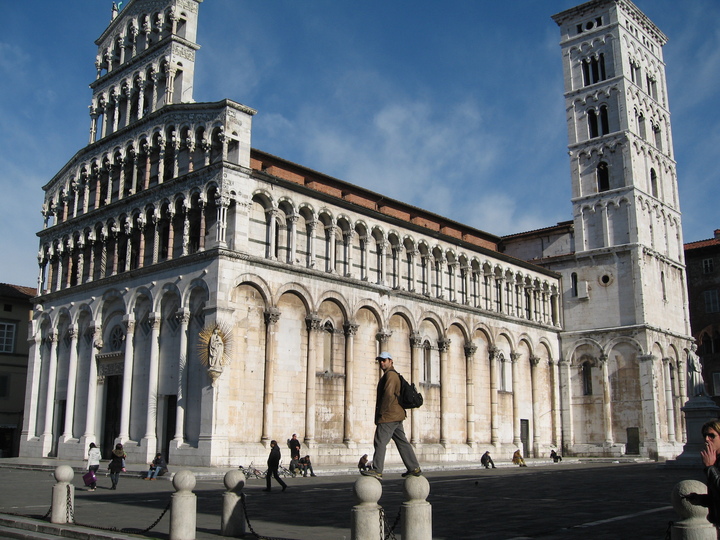 Samy posing in Lucca
45 minutes from Pisa is the city of Lucca. It's much bigger than Pisa and houses of lot more things to visit inside the medieval walls surrounding the old city. We parked on the side of a road under a row of trees, many other cars were parked, all had received parking tickets of 75 EUR! That's a huge amount for a ticket! wow! We took a ticket from another car's windshield and put it on ours. I bought my first pack of cigarettes since France. Went from 5 EUR to 2.70 EUR! Nice! 🙂
View the extra Photo Gallery in LUCCA
More info about Lucca on Wikipedia

.
Day 7 :: Monday, November 19
1200 km :: Florence Italy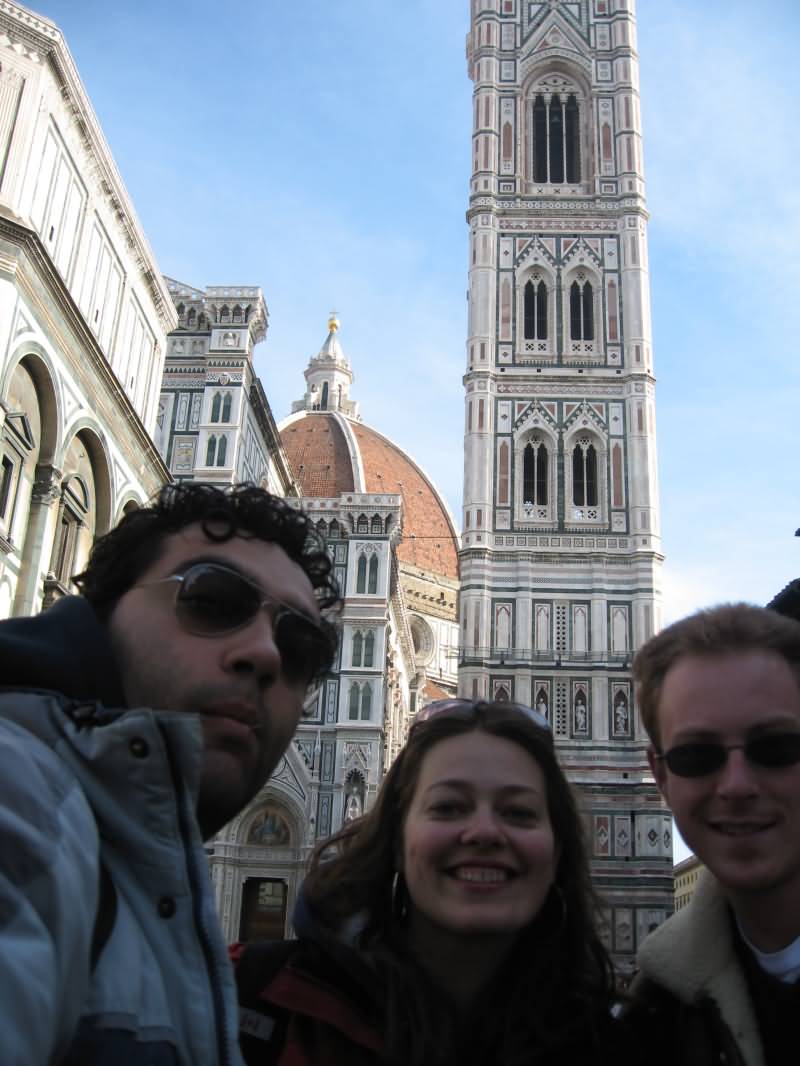 Samy Hersant, Annelies Van Dam and Arnaud in Florence, Italy.
We had a bit of trouble finding a place to sleep because the Hemiral Palace youth hostel was full upon our arrival. So we slept in a different hostel for one night and the two followings nights at the great Hemiral Palace hostel. Even during the low season, you should really reserve your beds before arriving! We didn't think it was necessary and did not reserve any hostel during our entire trip. It did complicate things once in a while but we always found a cheap place to sleep.
We met Annelies at the hostel, she's from Montreal too and lives in Amsterdam. At the hostel, we also met Sam Barber from California who hitched a ride with us to Bologna and Venice. Lots of good people in the Hostel!
Having a car is great for the freedom but in a big city it's a bitch to park! Sometimes you'll have to pay for parking, other times you are lucky and can park it 10 minutes away in a free zone. We payed for parking only in Venice and Budapest, that's it. Not bad!
Florence in Italy is a great city! Calm, charming, cultural, beautiful… It's easy to communicate in English. During our three days in November, we could hear as much English being spoken than Italian! Nuts! So many American tourists! The weather was great during our stay. We were lucky throughout the trip! One annoying thing in Italy, most restaurants will charge you just to sit down. Like in a Taxi, you start the ride at 2 EUR instead of 0 EUR. Not the best way to charge extra money! It REALLY pissed off Samy! 😉
View the extra Photo Gallery in FIRENZE :: Boboli Gardens :: Uffizi Gallery
More info about Florence, Italy on Wikipedia

.
Day 8 :: Tuesday, November 20
1360 km :: Florence and Bologne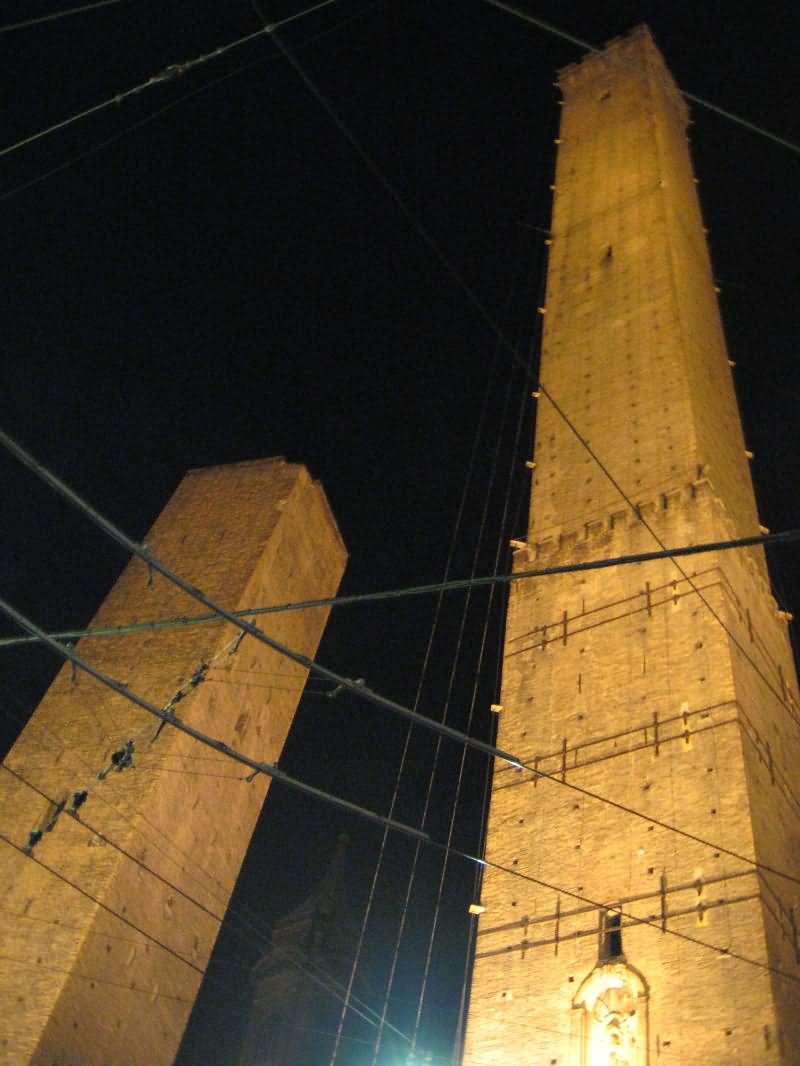 The two towers in Bologna, Italy.
Bologna is famous for its good food so we tested a fancy Italian restaurant. They serve a lot of horse meat! I had a Horse Tartar (raw horse!). Not as good as my mom's beef tartare! Sam, Samy and I slept at a huge empty hostel outside the city. The center of the city is nice but an incredible amount of boutiques and big industries in the suburbs. Bologna is one of the most developed cities in Italy! One night was plenty to quickly visit the city. It's hard to communicate in English, need Italian!
View the extra Photo Gallery in Bologna
More about Bologna on Wikipedia

.
Day 10 :: Thursday, November 22
1510 km :: Venise Italy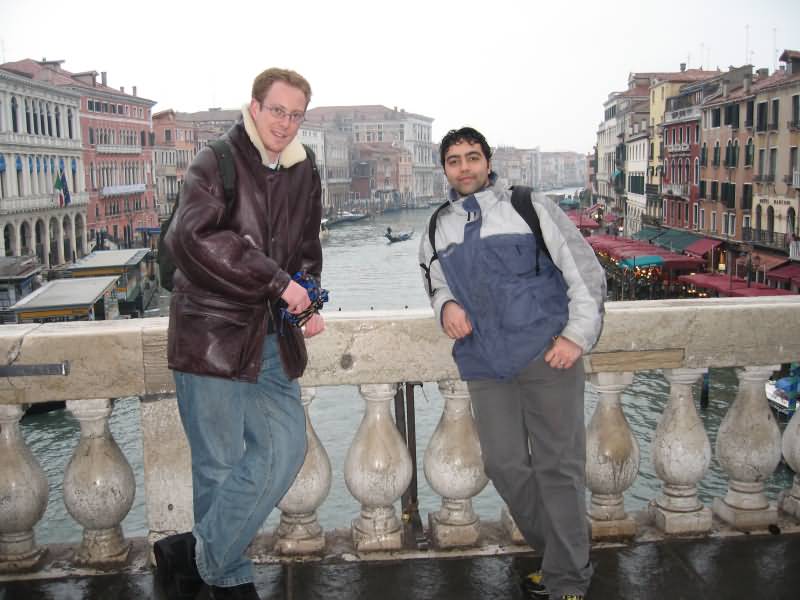 Samy and I on the famous bridge in Venice, Italy.
Sam Barber had reserved a discount hotel for himself on Piazza Saint-Margarita and our youth hostel was on a different island in Venice. We should have taken the boat many times to reach the actual island of Venice, Italy, so we decided to stay with Sam Barber at the Hotel for 20 EUR a night. Most expensive hotel of the trip with the Etap Hotel in Stuttgart. Hotel was right in the center, a nice bar 30 seconds away where we drank quite a bit on Wednesday night. Met Vince from UCLA, a US Navy Jet Fighter pilot on permission before going to Iraq. Nice guy!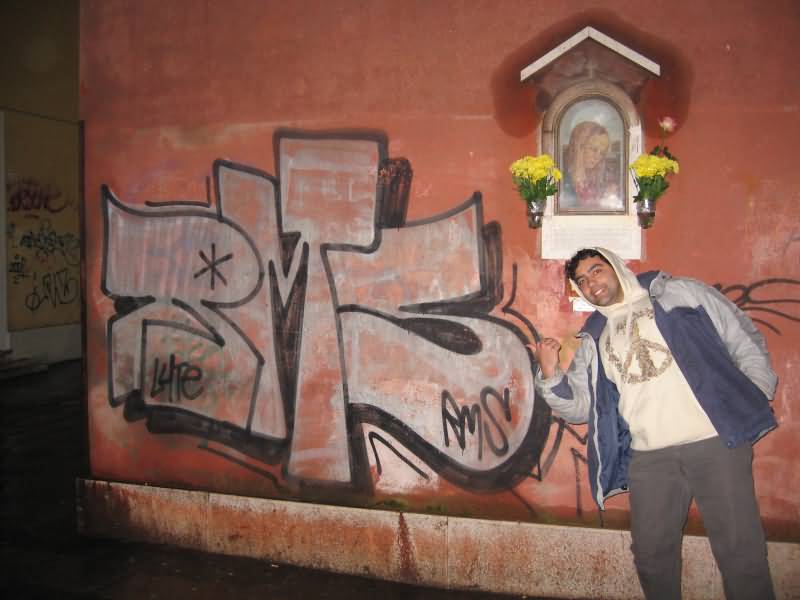 Samy standing next to a Graffiti with a virgin Mary on top of him.
We stayed 2 night in Venice, Italy and were a little disappointed by the city. The rain on our last day to visit Piazza San Marco didn't help. Graffiti everywhere we looked! WHAT THE ******* !!!! Such a famous and touristic city destroyed by grafiti! So horrible to see this! I spoke to people about this and we are the first to witness this! Maybe they clean the city up for high season tourists. And so many buildings look like they are falling apart or completely black from pollution! A simple and inexpensive paint job could really help the city! So many tourists bringing so much cash to the city, they could invest more money into renovating the city. Or maybe they know Venice will soon sink into the Adriatic sea and disappear forever because of rising waters and city sinking. I wonder if we can save Venice? Well at least I've been there and seen Venice at least once in my life!
On wednesday was the Santa Maria Fiesta. I've never seen such human traffic! Police officers were in the minuscule alleys to regulate traffic, like red lights. People would buy a couple candles in the street markets and go into a church to light them up. Too bad many churches required an entrance fee to visit. Gotta pay for everything in Venice! Not cheap!
Another thing about Venice, Samy and I agree on this. Venice has the ugliest Pigeons we've ever seen! Black from pollution, often handicapped and totally helpless. We've seen a Pigeon get caught and destroyed by a small dog in front of people, it couldn't even fly away! Awful!
Italy is the last country we are able to get directions from the GPS. We did not have the GPS maps for Slovenia, Croatia, Hungary and Slovakia. So starting from day 11 to day 19 we are on our own! 9 days without any GPS or paper map. The only map we had for those areas was an old map of the entire Europe. Czechoslovakia was still a country! ahhhh!!! We had a very good technique not to get lost. It's easy enough to find the highway going in your desired direction. When we get close to the city, we follow the "Center" often "Zentrum" signs. Once in the city center we look for the Tourist Information sign. When we reach the Info desk, we are saved! They will give us maps of the city, tell us about a cheap place to stay for the night and also what to visit in the city. This technique worked in every city except for Bratislava in Slovakia. Impossible to find any Tourist Info signs! Disappointing…
View the extra Photo Gallery in Venice
More about Venice in Italy on Wikipedia.
.
Day 11 :: Friday, November 23
1775 km :: Florence Italy then Lubiana in Slovenia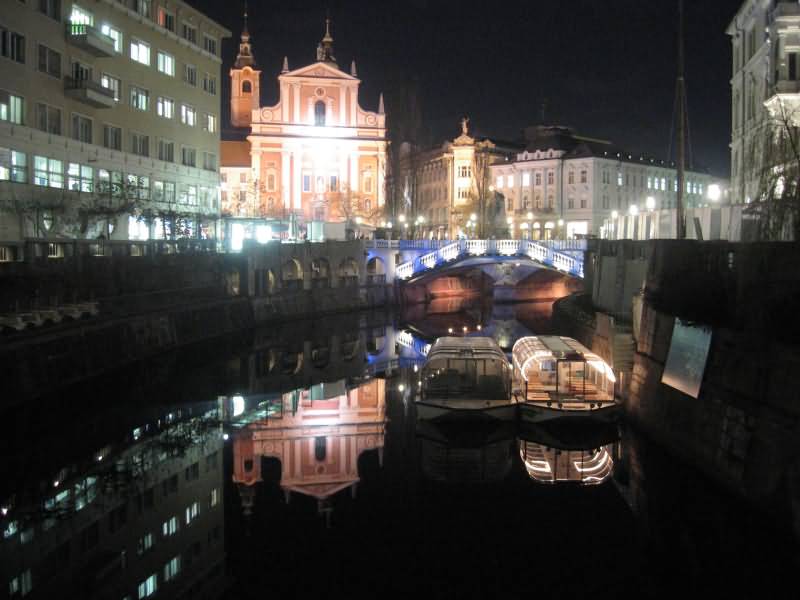 Photo of Ljubljana at night, Slovenia.
Ljubljana or Lubiana in Slovenia was the great surprise of our trip. Like most people, we barely had even heard of Slovenia and its capital so we did not know what to expect. We found this very peaceful, calm and interesting city. The inhabitants were very nice and many were very happy to help us out with translations and directions. More than any of the other 8 countries we visited! Slovenian's speak English.
Only 2 million people live in Slovenia and speak the language. The city is not very famous and does not receive many tourists which might explain why the population still enjoy visitors and act very nicely towards them. Saturday morning we saw a healthy beaver in the river in the city center, building it's house/dam. We slept in a Youth Hostel called Alibi Hostel. I got very friendly with the girl at the lobby but her name was so complicated i cannot remember!
Slovenia is one of the first Eastern European countries to change their currency to the EURO. They are just getting used to it since they've only had the EURO for one year. Same as in the other EURO countries, their purchasing power has slipped because of the new currency.
View the extra Photo Gallery in Ljubljana
More info about Ljubljana in Slovenia on Wikipedia

.
Day 13 :: Sunday, November 25
2190 km :: Zagreb in Croatia then Lake Balaton Keszthely in Hungary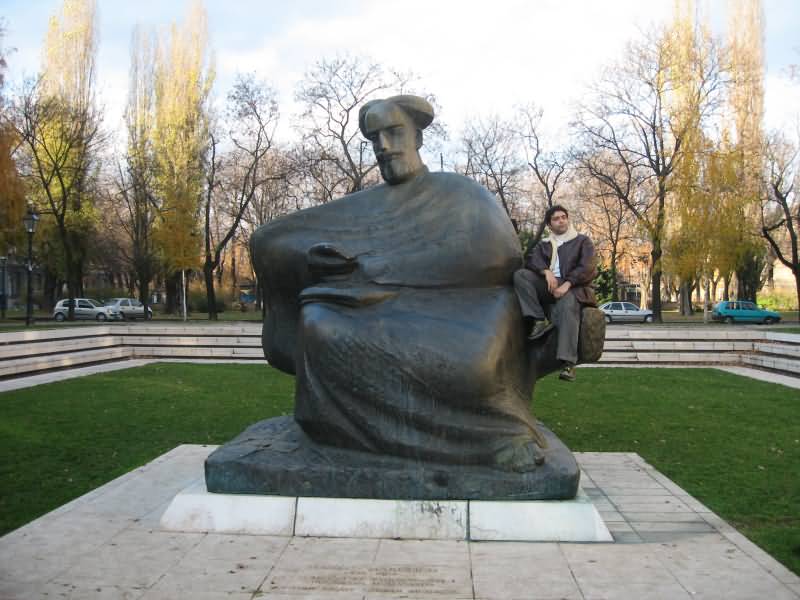 Samy sitting on a Huge Statue in Zagreb, Croatia.
Zagreb is very close to the Slovenian border. The city is much bigger than Lubiana. When you enter the suburbs of Zagreb, you can't help to notice the humongous apartment buildings. Everything is huge and very spacey. 4 lane roads, huge sidewalks… You can feel the Soviets had been here! First time our Euros do not work so we got local kn currency. Life is cheaper than the previous countries. Excellent slices of pizza for 0.80 EUR, hostel for 10 EUR a night… As a smoker, I was happy to notice smoking was still permitted within public buildings. We could smoke inside the hostel room! First and last time this would be possible! Saturday night, Samy and I went to the Sokol night club next to the beautiful theater house. That place was so packed and the bouncer would keep bringing people in! The girls were as tall as I (1m82) and the guys measured 1m90 ! Samy was the smallest person inside the night club! lol! wow!
View the extra Photo Gallery in ZAGREB
More about Zagreb in Croatia on Wikipedia
.
Day 14 :: Monday, November 26
2190 km :: Heviz thermal lake, Keszthely, Lake Balaton in Hungary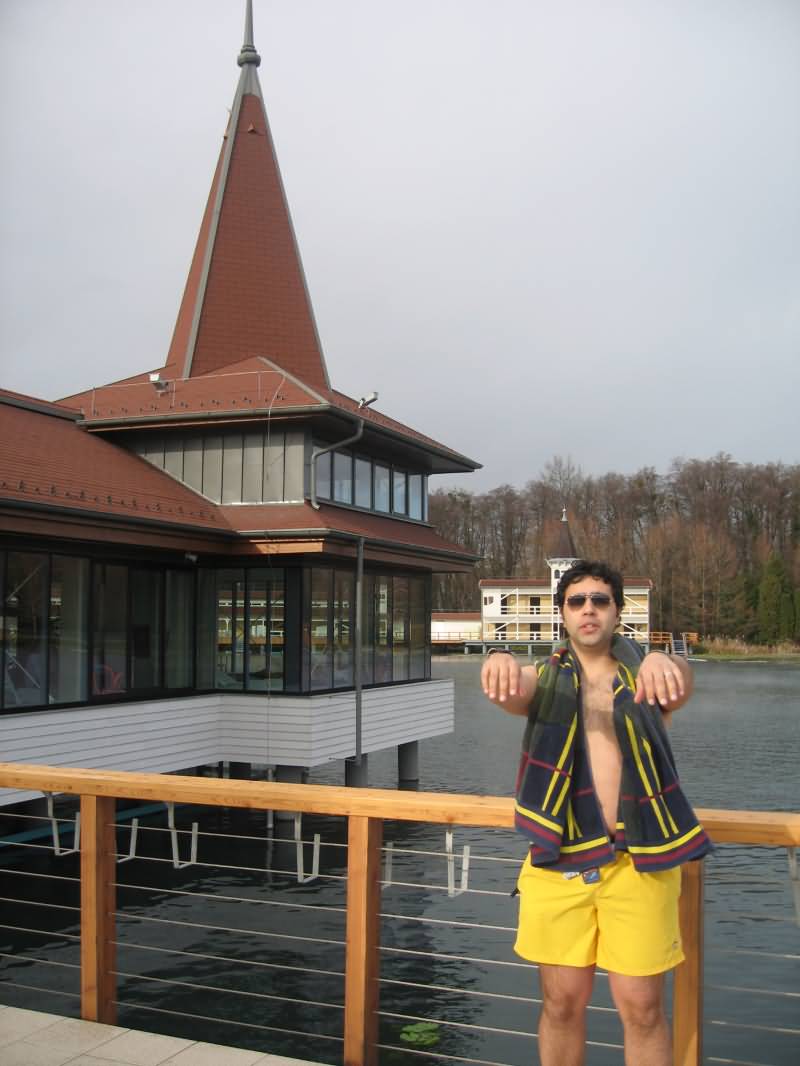 Samy Hersant at the Heviz Thermal Lake near Lake Balaton in Hungary.
The border to enter Hungary was a bit more serious than the previous ones. We had to show the car registration papers and the man asked us if we had anything to declare. First and only time there were real checkups. We entered Hungary at night and rain was pouring like crazy. We only had a vague map of Lake Balaton from our Tourist Guide book. We were aiming for a city called Keszthely. We saw a very small sign on the road in that direction and followed it. We ended up completely lost and people absolutely did not speak French or English so good directions were hard to get. We stopped at a small bar where i found a young Hungarian male who spoke a little English. I was showing him on the tourist guide map where we wanted to go. We were in the correct direction but it was still 40 kilometers away!
It's still raining when we get to Keszthely. We stop at 4 different hotels, all closed or prices of 80 EUR. We wonder around and start seeing many signs on houses for renting small apartments. We tried a couple and eventually find the most perfect place! Beautiful house and the lady is offering us a complete apartment with living room, kitchen, tv, bedroom and our very own bathroom! WOW! 13 EUR a night per person! Cheaper than the prices in Italy and we have a LOT MORE for the buck! That night we slept like babies. The next morning we wake up to a beautiful sunny day! WE ARE SO LUCKY we think! The moment was just perfect! We decided to stay two nights. On Monday, we visited this old castle around lake Balaton and on Tuesday we spent a couple hours at the Heviz Thermal Spa. Biggest thermal lake in Europe! The water naturally was at a temperature of 33 degrees! Nice! Before leaving for Budapest, we bought 3 days of food for 10 EUR ! Hungary was the cheapest of the 9 countries. Our stay at Lake Balaton was a Blast!
View the extra Photo Gallery in LAKE BALATON :: Photo Gallery in HEVIZ SPA
More about Lake Balaton in Hungary on Wikipedia

.
Day 17 :: Thursday, November 29
2458 km :: Budapest in Hungary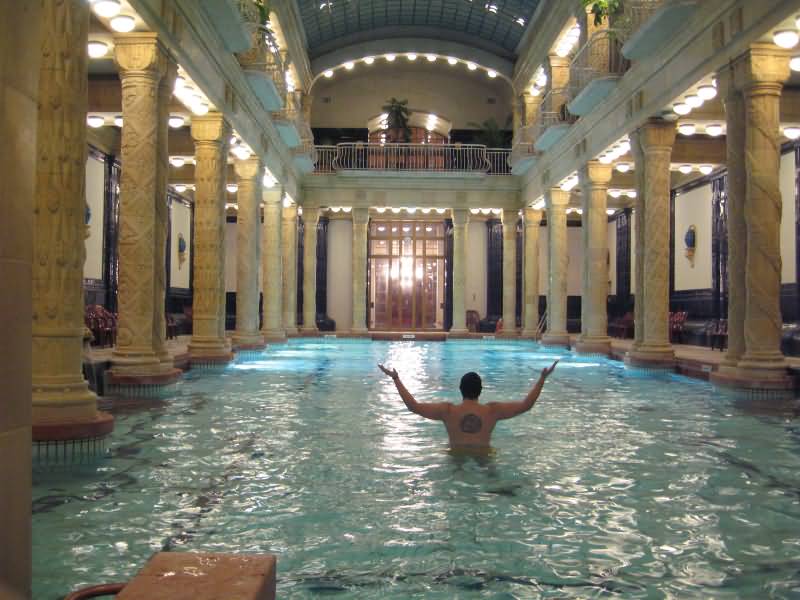 All powerful Samy wearing his tattoo in the main swimming pool at the Gellert Thermal Bath in Budapest, Hungary.
We got to Budapest Tuesday night. It's a BIG city! 1.7 million inhabitants. A lot bigger than the other cities we had been through. We got on the Buda side and saw millions of Information signs on the road! Everywhere, signs with that stupid letter I! For sure they weren't all indicating the tourist info office, so which to follow? We randomly chose one and ended up at the train station in Buda. No one was able to help so we went to a major hotel, they told us where the real Information Desk was and gave us a small map of Budapest. The tourist office gave us some addresses to check out for cheap hostels. We visited a couple and finally decided on the Colors Hostel for 10 EUR per night per person. Real cheap and great services! It was a small apartment with 30 beds, cable TV, kitchen etc… very comfortable.
We left the car in the street at night, the next morning we parked it outside the city center in an underground parking lot. Parking is expensive in Budapest! We misunderstood the amount the parking cost. We thought it was written a price per day but it was a price per hour! Ended up paying more than 20 EUR for 3 day parking! OUCH!
Budapest has a subway system and you buy the tickets from a homeless guy siting outside the station! We couldn't believe it so we asked cops inside the train station who confirmed the information. On certain popular touristic streets in Pest, people are there 24 hours a day to sell you strip clubs or anything else you'd want. Even if you say no, they'll follow you for a while just to make sure you don't change your mind. One guy we kept on running into, we ended up by saying hello to the guy each time we'd cross "his" area.
You need to pay for each mayo or ketchup sauce in fast food restaurants. I lost a bet with Samy about this. We spent a couple hours at the Gellert thermal bath/spa. A beautiful place to relax and enjoy a muscular massage by a tough Hungarian woman. We visited the Buda Castle on the banks of the Danube river. Some nice architecture. Big Christmas Markets and good Goulash.
We left Budapest early afternoon on Friday only to get stuck in a major traffic jam! Took us an hour to leave the city! Traffic jams early afternoon! How bad is it during rush hour?
View the extra Photo Gallery in BUDAPEST :: BUDA AND CASTLE HILL :: GELLERT BATHS
More about Budapest in Hungary on Wikipedia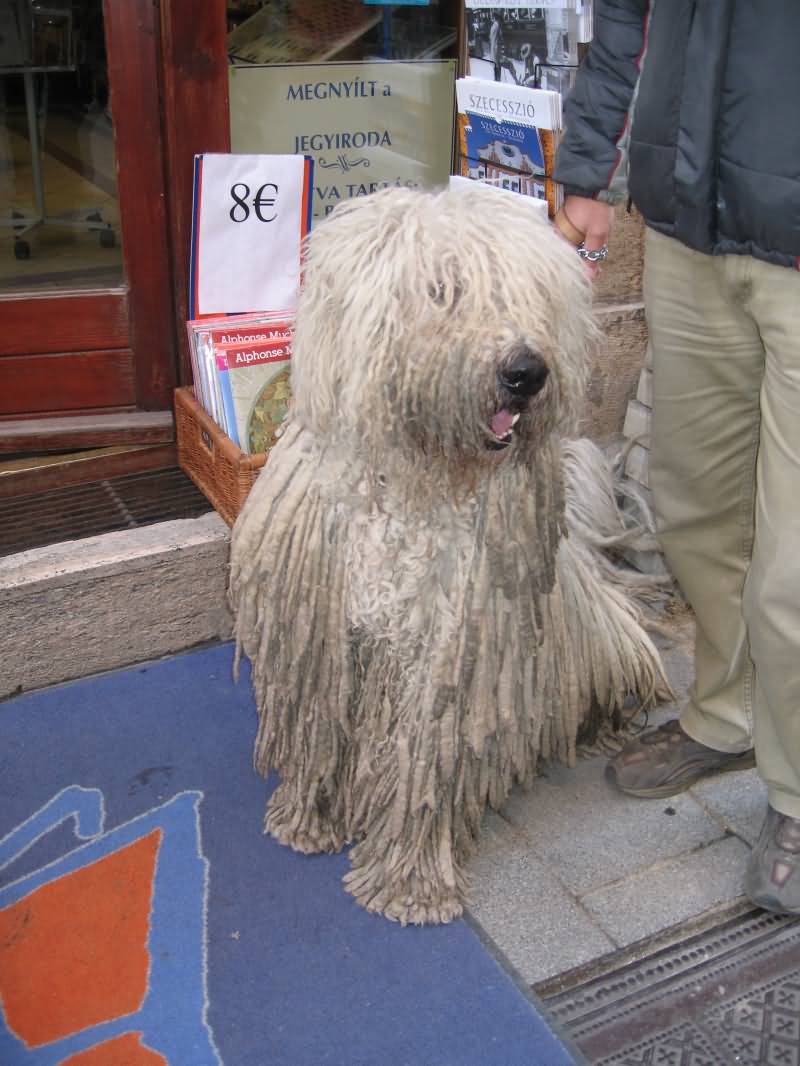 HUGE Hungarian DreadLocks Dog in Budapest
After Budapest we were supposed to sleep one night in Bratislava in Slovakia but there were absolutely no information signs on the roads in the city center! First city the Information signs are not visible on the roads! We stopped at a Grand Hotel to get a map of the city and see about that Information desk. Samy goes to check it out but it was closed! Great… We drove around the city and decided to go directly to Vienna in Austria. Lucky for us Vienna and Bratislava are only 60-70 kilometers away. So we drove through 3 countries in one day; Hungary, Slovakia and Austria! Try to do that in North America! 😉
.
Day 19 :: Saturday, December 1
2725 km :: Vienna in Austria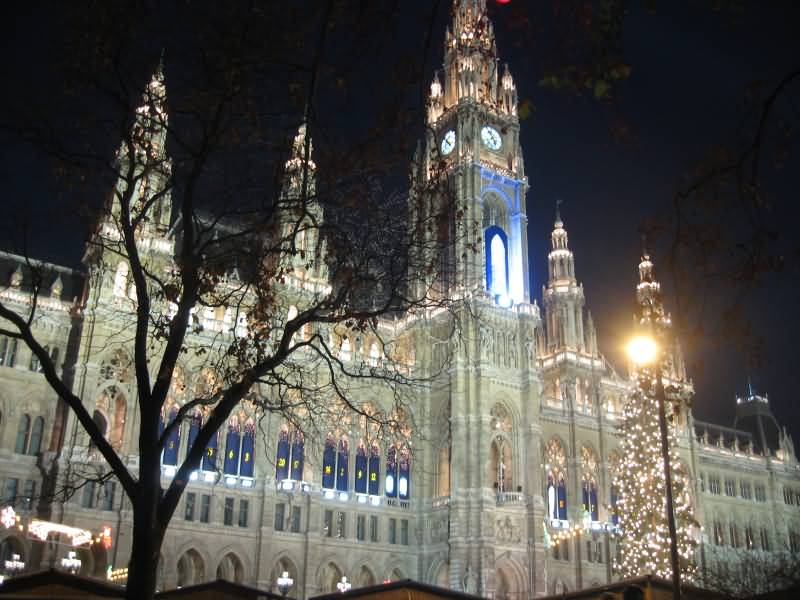 Christmas night shot of the Town Hall in Vienna, Austria.
We had the map for Austria on the GPS so it was back to work! We called the GPS Virginie. It is such a comfort to have a GPS! No hasles trying to read a paper map in the dark at night, it just tells you where to go and always gets it right! So we get to the Hutteldorf Hostel in Vienna and cross our fingers they have some available beds. It's Friday night and hostels are always more packed on weekends. We get two beds but we'll have to change room Saturday night. This hostel is huge! A very tall building with 7 floors. For the top floors, you need the elevator if you don't want to kill yourself on the stairs. Cost is 12 EUR per night per person with a reasonable breakfast.
Music and art is very present in Vienna, Austria. We enjoyed a free choral concert in the beautiful Vienna City Hall and watched a great orchestra concert in the most famous concert hall. See the photo below. The Austrians and Germans really trust their population. On the streets you can freely take a newspaper and pay for it only if you want to. Nothing stops you from stealing it! And we used the subways in Vienna, Munich and Stuttgart for free. No barrier to verify if you have a ticket or not. Normally they have controllers inside the trains to verify the tickets but luckily for us, we didn't see any! So free transportation from the Hutteldorf hostel to the Vienna city center.
Vienna is a beautiful city! Very clean, some great architecture like the city hall on the photo above, lots of charming neighborhoods. We met a couple Americans who came to study music in Vienna. The perfect place to study music! We visited the Leopold Museum and ate sausages at the humongous Christmas markets. Austrian and German Christmas markets are much bigger than anything I've ever seen! Both countries really love to decorate their cities and invest a lot of money on Christmas. The streets light up from the decorations and shops have not forgotten to prepare their display windows. Many tourists in Vienna.
View the extra Photo Gallery in VIENNA :: Leopold Museum
More about Vienna in Austria on Wikipedia

.
Day 20 :: Sunday, December 2
2725 km :: Vienna in Austria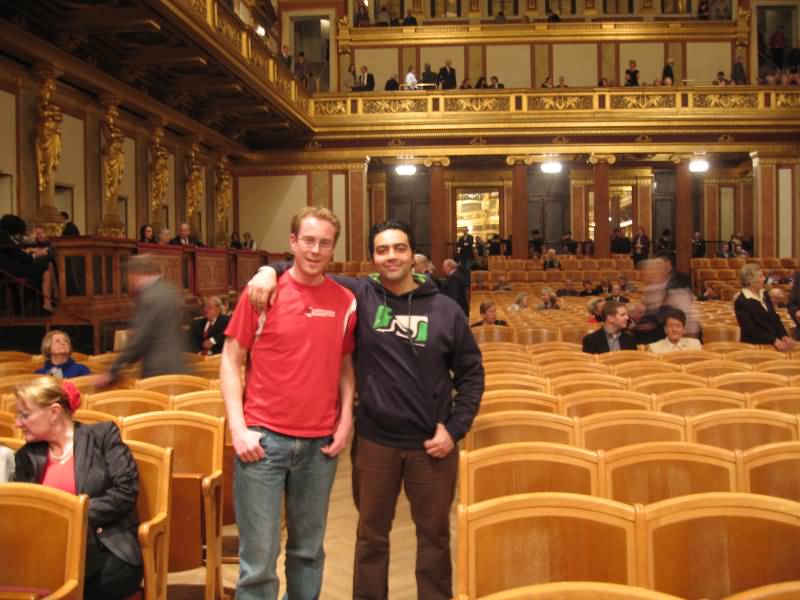 Samy and I in the Golden Hall (Großer Musikvereinssaal) in Vienna, Austria
This was one of the highlights of our trip! If you go to Vienna, you MUST assist to the Vienna Philharmonic, regularly considered as one of the finest in the world. Vienna is famous for it's music, it's a must! We sat at the very front on the second row of the Grosser Musikvereinssaal Golden Hall. That night, the conductor for the Vienna Philharmonic was Fabio Luisi, Adrianne Pieczonka was the vocalist. We were amazed to see the concertmaster (the first violinist) cry for 15 minutes during Ms. Pieczonka's performance. The guy has more than 30 years experience and still feels this profound emotion which translates into tears. WoW! A beautiful moment that was!
TIP :: Tickets for such high end events usually cost more than 60 EUR a piece. We paid 10 EUR each for the best seats! The trick is to show up at the ticket office one hour before the start of the concert. They open to sell the remaining tickets at a fraction of the price. A queue will form outside the ticket office so you must not be late otherwise it will be sold out.
View the Photo Gallery Vienna Philharmonic
More info about Vienna in Austria on Wikipedia

.
Day 22 :: Tuesday, December 4
3185 km :: Munich in Germany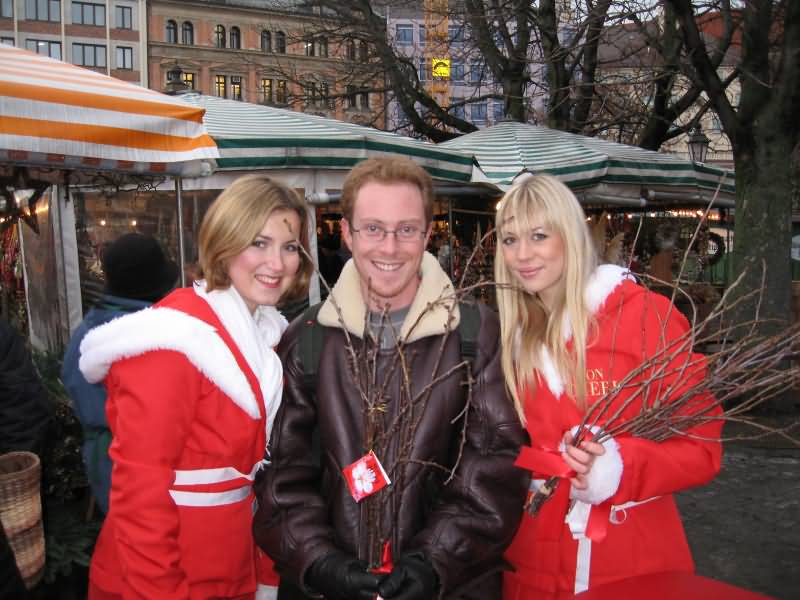 My two German girlfriends from Munich in Germany.
Munich was a blast! As we are reserving our beds in the Hostel, the guy gives us a map of Munich with all the best Beer Gardens to visit during our stay. We went to two out of the 6 on the map. Huge bars like you've never seen before filled every night with local alcoholics and tourists all drinking 1 liter beers. Beer really has an important part of German life and sausages! In Munich, you've probably heard of the OktoberFest! Munich is a beautiful city! We visited the enormous Deutsches Museum, many expositions about Science! I have to admit i much prefer this type of museum! At the hostel, we were sharing a bedroom with 18 other people! First time i'm in a HUGE room with so many people! Good thing i had bought ear plugs in Vienna! Otherwise it's impossible to sleep!
View the Photo Gallery Munich City of Beer :: Deutsches Museum
.
Day 23 :: Wednesday, December 5
3185 km :: Munich in Germany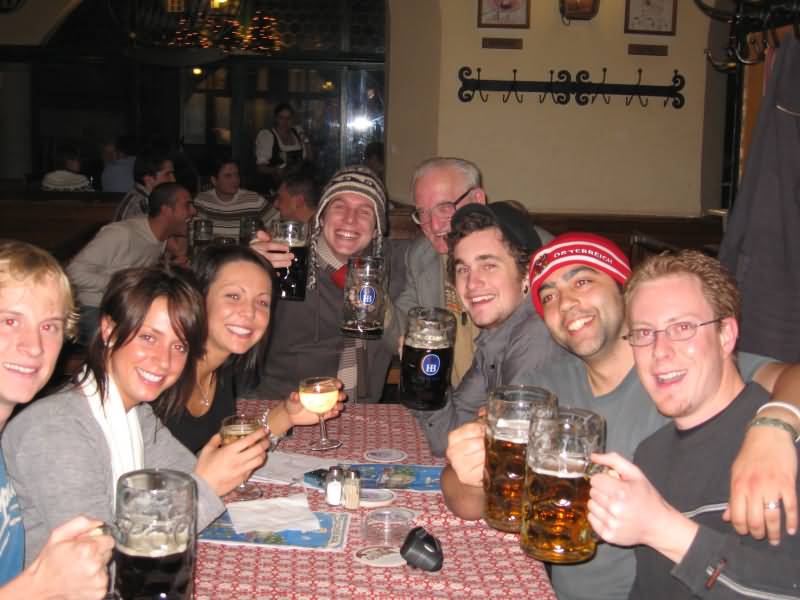 Samy, Sean and I with Australian and American friends from the Hostel at the Beer Garden : Hofbräuhaus brewery in Munich, Germany. Did you notice that old guy sitting in the back? He was sitting alone so we joined him! Cool guy! 😉
View the Photo Gallery Hofbrauhaus Brewery
More about Munich in Germany on Wikipedia

.
Day 24 :: Thursday, December 6
3430 km :: Stuttgart in Germany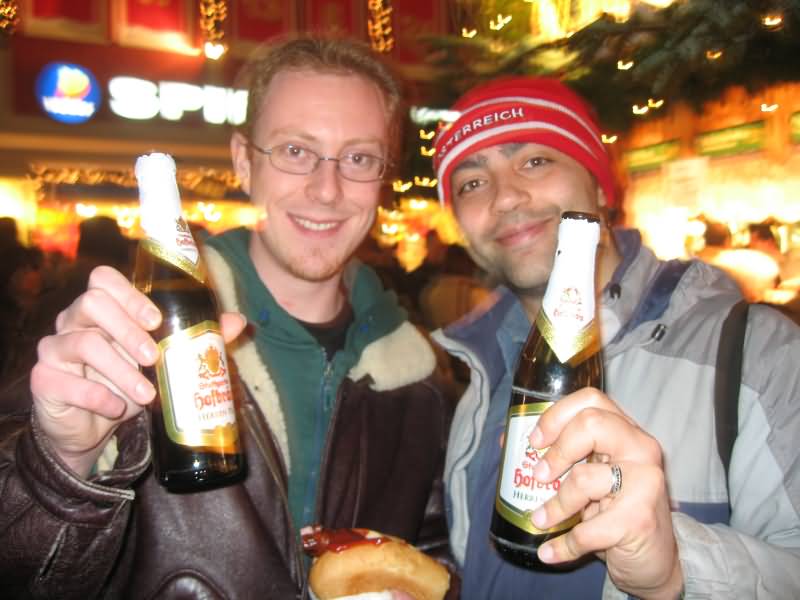 Samy and I with our 4 EUR beers at a great Christmas Market in Stuttgart, Germany.
Drinks and food is so expensive at Christmas Markets! But the German Christmas markets are very very nice! We slept at the Etap Hotel but only payed for one person! Once again, we didn't pay for the subway ride!
View the Photo Gallery in STUTTGART GERMANY
More about Stuttgart in Germany on Wikipedia

.
Day 25 :: Friday, December 7
4038 km :: Freiburg in Germany then Macon in France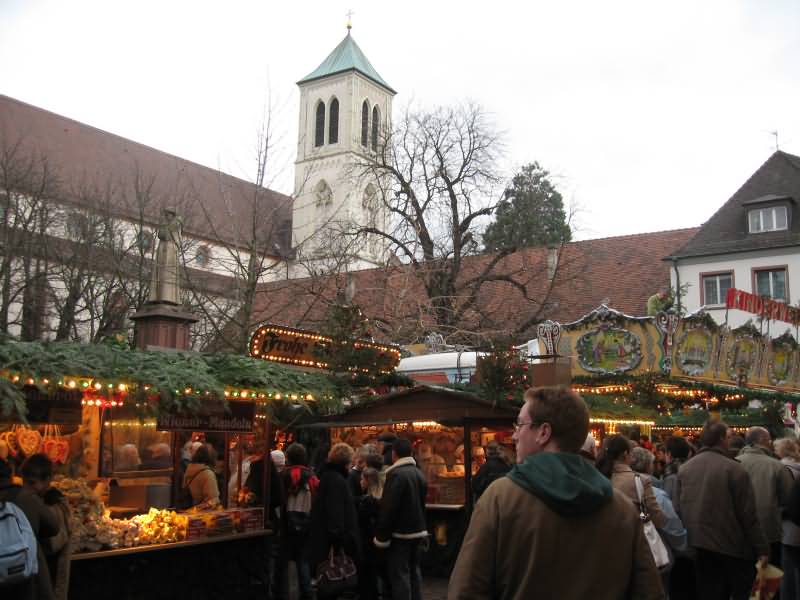 Christmas Market in Freiburg, Germany.
Our last stop before entering back into France. Nothing really special, we just needed to eat, add some fuel and drop our last Postal Cards for friends and Family.
See the Photo Gallery in Freiburg
More about Freiburg in Germany on Wikipedia

.
Day 27 :: Sunday, December 9
4660 km :: Back Home in Toulouse and Samy off to Paris then Canada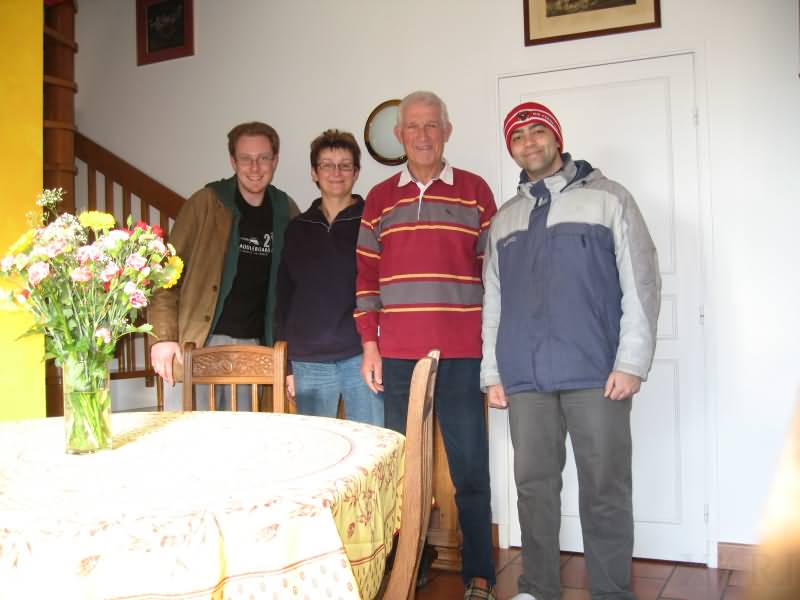 Blandine and Jacques Keller-Goy posing with Samy and Arnaud
After Germany, Macon in France at a friend's house; Blandine and Jacques Keller-Goy. Great people who took real good care of us during our two days at their beautiful home! Merci Blandine et Jacques! 🙂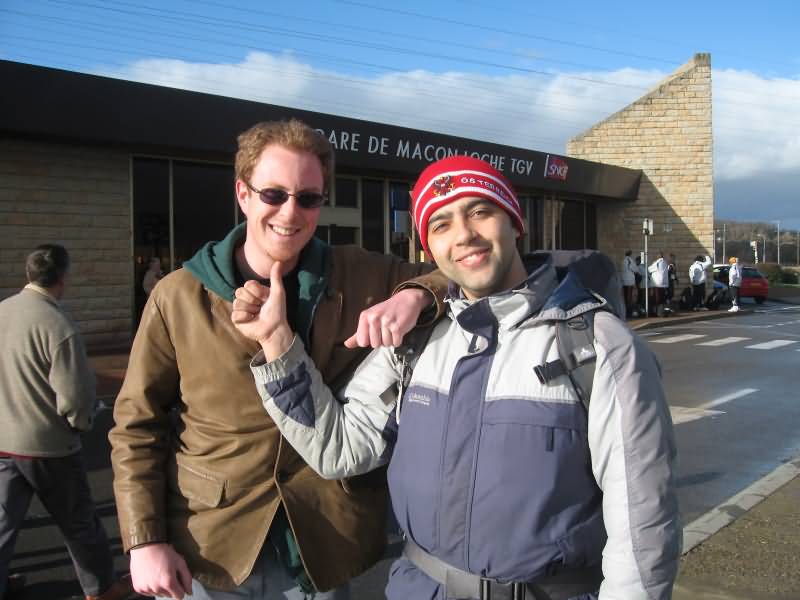 Very last Photo of our Trip before Samy takes the TGV train to Paris from Macon Hoche.
More about Macon in France on Wikipedia

——————————————————-
THE END! snif snif
——————————————————-
Your Comments are Welcome!
Vos Commentaires sont les bienvenues!