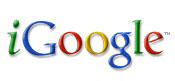 I setup the iGoogle page as my Firefox homepage so it's the first thing I see when I load Firefox. I use iGoogle on a daily basis and find it extremely useful and time saving as it displays all the vital information I need on one page. iGoogle is especially interesting if you use the various Google services such as Gmail, Calendar, RSS feeds etc… You can customize tons of different "gadgets" into your page to create your very own "homepage". If you do not like iGoogle but would like to use a customizable homepage, then visit NetVibes.
Also see the new iGoogle Artist themes by reknown celebrities like Akira Isogawa, Philippe Starck, Dolce&Gabbana, Oscar de la Renta. Click Here
All you need to create your own iGoogle page is an email address with gmail. You can login here.
Best Top 10 iGoogle Gadgets :
Google Calendar :: Link


Access your monthly calendar using Google Calendar online application
Google GMAIL :: Link


Built in Gmail Reader. Displays a preview of your Gmail inbox to alert you of any new messages
Google Reader :: Link


If you use RSS feeds you need to install Googler Reader on your iGoogle page. Reader is a very advanced and powerful syndicator and feed reader.
Google News :: Link


Customizable news gadget that shows different news sections in separate tabs.
Google Map Search :: Link


Now you can search the world from your iGougle homepage. View the maps from your town and the satellite images.
Google Bookmarks :: Link


For those of you who use Google Bookmarks, you can view your listings right into iGoogle and even add new websites. Bookmarks are an important part of internet surfers online experience. Instead of using your browser's bookmark, you should REALLY use an online solution, this way you have access to your bookmark from anywhere in the world.
Remember the Milk :: Link


RTM is used to created and share a todo list with others. It is the best and most advanced online utility for todo lists.
Sticky Note :: Link


With sticky note, you'll be able to write down quick notes in your iGogle page. The notes are saved almost instantly so you can close your browser without loosing your notes. I use it A LOT! Works great!
Live Weather :: Link


Who doesn't want to know what the weather will be like in the next couple days? I use Live Weather to display the upcoming 4 days predictions. There are other more popular weather gadgets but I prefer Live Weather, also because it has predictions for the small city where i live in France.


Everyone has heard of Digg featuring the latest favorite news voted up by the large community of users. Now you can see the top stories from Digg right on your iGoogle page.
Watch the iGoogle Video Tour ::