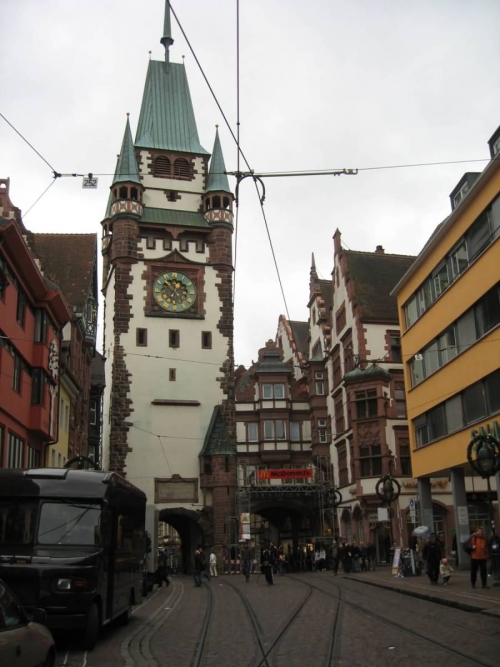 Freiburg in Germany Picture Gallery
Read about my 4600 km Road Trip in Europe
About Freiburg from Wikipedia ::
Freiburg is a city in Baden-Württemberg, Germany, on the western edge of the southern Black Forest. Popular opinion has it that Freiburg is the warmest city in Germany. It straddles the Dreisam river, on the foothills of the Schlossberg. The city is surrounded by the Black Forest mountains Rosskopf and Bromberg in the east, and in the south and west by the Schönberg, Tuniberg and the Kaiserstuhl.

The Augustinerplatz is one of the central squares in the old city. Formerly the location of an Augustine monastery which became the Augustinermuseum in 1921, it is now a popular social space for Freiburg's younger residents. It has a number of restaurants and bars, including the local brewery 'Feierling', which has a Biergarten. On warm summer nights, hundreds of students gather here.

At the centre of the old city is the Münsterplatz, its largest square. A farmers' market takes place here every day except Sundays. This is the site of Freiburg's Münster, a gothic Minster Cathedral constructed of red sandstone, built between 1200 and 1530. The Freiburg Münster is noted for its towering spire.

The Historisches Kaufhaus, or historical marketplace, is a Renaissance building constructed between 1520 and 1530 which was once the center of the financial life of the region. Its façade is decorated with the coat of arms of the Habsburgs.
Freiburg Web Links :: Guide in English :: Tourist Guide :: About Europe Travel :: About Germany
Freiburg in Germany Picture Galleries ::
Christmas Markets in Germany Freiburg 2007