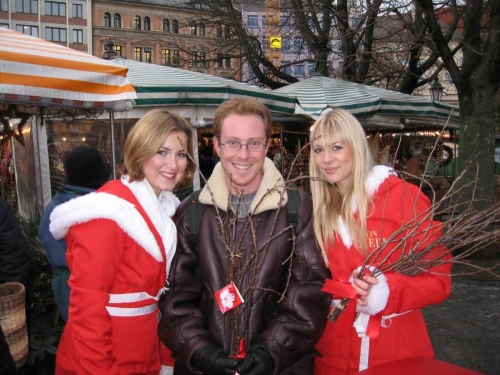 Munich Germany – City of Beer!
Photo Gallery and Video
Read about my 4600 km European Road Trip
About my Trip in Munich ::
Day 22 :: Tuesday, December 4
3185 km :: Munich in Germany

Munich was a blast! As we are reserving our beds in the Hostel, the guy gives us a map of Munich with all the best Beer Gardens to visit during our stay. We went to two out of the 6 on the map. Huge bars like you've never seen before filled every night with local alcoholics and tourists all drinking 1 liter beers. Beer really has an important part of German life and sausages! In Munich, you've probably heard of the OktoberFest! Munich is a beautiful city! We visited the enormous Deutsches Museum, many expositions about Science! I have to admit i much prefer this type of museum! At the hostel, we were sharing a bedroom with 18 other people! First time i'm in a HUGE room with so many people! Good thing i had bought ear plugs in Vienna! Otherwise it's impossible to sleep!
About Munich from Wikipedia ::
Munich is a green city with numerous parks. The Englischer Garten, close to the city centre and covering an area of 3.7 km², is one of the world's largest urban public parks, and contains a nudist area, jogging tracks and bridle-paths. It was devised and laid out by Benjamin Thompson, Count of Rumford, an American, for both pleasure and as work area for the city's vargants and homeless. Noweadays it is entirley a park with a Biergarten at the Chinese Pagoda.
Munich Links :: Official :: City Guide :: 360 Panorama
Munich Munchen Photo Gallery ::
Travel to Munich Munchen :: City of Beer!
Munchen DE Photo Gallery
Video of Munich during Christmas time ::

Munich during Christmas 2007
[ 0:32 ]
Play Now
|
Play in Popup
|
Download
(1012)