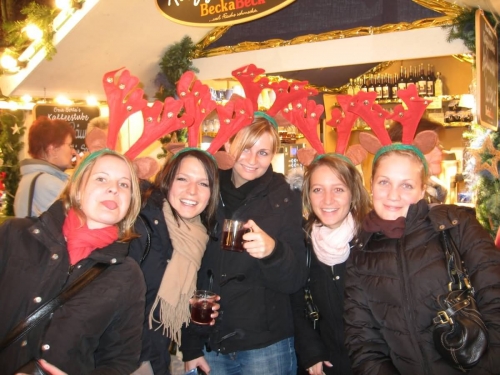 Stuttgart in Germany – Christmas Market Photo Gallery
Read about my 4600 km Road Trip in Europe
About Stuttgart from Wikipedia ::
Stuttgart is the capital of the state of Baden-Württemberg in southern Germany. The sixth-largest city in Germany, Stuttgart has a population of 595,452 while the metropolitan area referred to as Stuttgart Region has a population of 3.46 million.

The Stuttgart area is known for its high-tech industry; some of its most prominent companies include Daimler AG, Porsche, Bosch, Celesio, Hewlett-Packard and IBM all of whom located their world or German headquarters here. In fact, the Porsche badge, as seen on the front of Porsche cars has this town's name in the centre of the badge, something that is unique amongst the world's vehicle makers.

The motorbike and four-wheel automobile were invented in Stuttgart. As a result it is considered by many to be the starting point of the worldwide automotive industry, and is referred to as "The cradle of the automobile". Mercedes-Benz, Porsche and Maybach are all produced in Stuttgart and nearby towns. The very first prototypes of the VW Beetle were manufactured in Stuttgart, based on a design by Ferdinand Porsche.

The region currently has Germany's highest density of scientific, academic and research organizations, and tops the national league for patent applications. More than 11% of all R&D-expenses in the Federal Republic of Germany are generated in the Stuttgart Region. In addition to several universities and colleges, the area has six institutes of the Fraunhofer Gesellschaft, four institutes for collaborative industrial research at local universities, two Max-Planck Institutes, as well as one large-scale research centre—the German Aerospace Centre.
Stuttgart Web Links :: Exciting Metropolis :: Wiki Travel :: City Overview
Stuttgart Christmas Markets Picture Gallery
Christmas Market 2007 in Stuttgart Germany
Video of Street Music in Stuttgart – Xmas 2007 ::

STUTTGART Chistmas Market
[ 0:34 ]
Play Now
|
Play in Popup
|
Download
(1118)