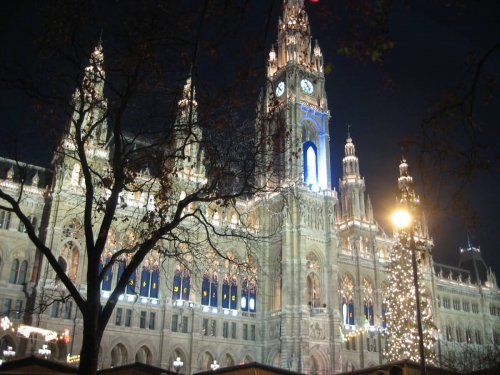 Vienna in Austria :: Picture & Video Gallery
Photos and Video taken during my 4600km Road Trip in Europe
About my Trip to Vienna ::
We had the map for Austria on the GPS so it was back to work! We called the GPS Virginie. It is such a comfort to have a GPS! No hasles trying to read a paper map in the dark at night, it just tells you where to go and always gets it right! So we get to the Hutteldorf Hostel in Vienna and cross our fingers they have some available beds. It's Friday night and hostels are always more packed on weekends. We get two beds but we'll have to change room Saturday night. This hostel is huge! A very tall building with 7 floors. For the top floors, you need the elevator if you don't want to kill yourself on the stairs. Cost is 12 EUR per night per person with a reasonable breakfast.

Music and art is very present in Vienna, Austria. We enjoyed a free choral concert in the beautiful Vienna City Hall and watched a great orchestra concert in the most famous concert hall. See the photo below. The Austrians and Germans really trust their population. On the streets you can freely take a newspaper and pay for it only if you want to. Nothing stops you from stealing it! And we used the subways in Vienna, Munich and Stuttgart for free. No barrier to verify if you have a ticket or not. Normally they have controllers inside the trains to verify the tickets but luckily for us, we didn't see any! So free transportation from the Hutteldorf hostel to the Vienna city center.

Vienna is a beautiful city! Very clean, some great architecture like the city hall on the photo above, lots of charming neighborhoods. We met a couple Americans who came to study music in Vienna. The perfect place to study music! We visited the Leopold Museum and ate sausages at the humongous Christmas markets. Austrian and German Christmas markets are much bigger than anything I've ever seen! Both countries really love to decorate their cities and invest a lot of money on Christmas. The streets light up from the decorations and shops have not forgotten to prepare their display windows. Many tourists in Vienna.
About Vienna in Austria ::
Art and culture have a long tradition in Vienna, including theatre, opera, classical music and fine arts. The Burgtheater is considered one of the best theatres in the German-speaking world alongside its branch, the Akademietheater. The Volkstheater Wien and the Theater in der Josefstadt also enjoy good reputations. There is also a multitude of smaller theatres, in many cases devoted to less mainstream forms of performing arts, such as modern, experimental plays or cabaret.

Vienna is also home to a number of opera houses, including the Staatsoper and the Volksoper, the latter being devoted to the typical Viennese operetta. Classical concerts are performed at well known venues such as the Wiener Musikverein, home of the Vienna Philharmonic Orchestra, and the Wiener Konzerthaus. Many concert venues offer concerts aimed at tourists, featuring popular highlights of Viennese music (particularly the works of Wolfgang Amadeus Mozart and Johann Strauss).
Vienna City Links :: Travel Guide :: Information and Services :: Lonely Planet
Wien Photo Galleries ::
Beautiful city of Vienna
Artistic city of Vienna in Austria
VIDEO of International Choral in Vienna City Hall ::

CHORAL VIENNA AUSTRIA
[ 2:52 ]
Play Now
|
Play in Popup
|
Download
(1348)