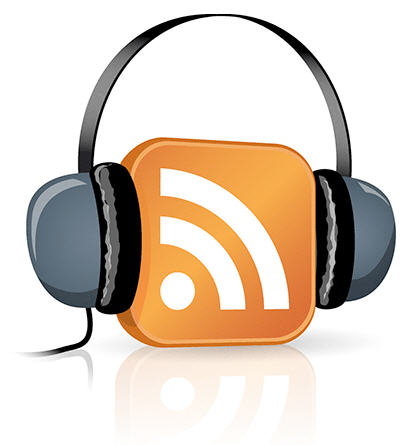 I've been adding music and videos on my blog for almost two years now. The original idea for my blog was to create and publish a podcast with my latest creations; music and video. Over time, I decided to add posts not related to my creations and that's when my blog left it's semi-niche category to expand into broader topics, but that's a different story.
The word "podcast" was invented with the arrival of iPods. "Cast" comes from the word broadcast and means "to distribute". Distribution can be done using the RSS (Real Simple Syndication) Feeds or simply on your website. In iTunes or other aggregator softwares, you can signup to a podcast feed and receive the latest media files right into the aggregator. Back in the days, you would upload the podcast files onto your iPod to listen or view the media on-the-go. Podcasts have grown more and more popular on the internet and are being less associated with iPods or other portable media players. I would say most people now use podcasts exclusively on the internet especially now that your portable media players can directly be connected to the web via Wifi or Bluetooth. You do not need to upload the podcast files onto your iPod since you can access the same media via streaming.
Audio File Format for Podcast
If you are going to publish audio, choosing the format is a no brainer: Go with MP3. It is compatible with everything and will work everywhere. There are audio formats which offer better quality and compression rate but stick to MP3. This format is universally compatible and that's the most important.
Video File Format for Podcast
To choose which format to publish the videos on your podcast, you must ask yourself the following question:
How will your users consume your Podcast? Your Target Audience
On a portable media player like iPods, Zune, Archos or Zen
In an aggregator software or online feed readers like iTunes, Google Reader, Thunderbird, Bloglines etc…
From Podcast directories which display your podcast feed on their website
Directly on your website
Unfortunately, there isn't one universal video format for all the above usages. This is extremely annoying since you will not be able to reach all the possible audiences. You will have to decide which category of users are most important to you.
Originally, I made the choice to target portable media players, more precisely iPods by encoding my videos in Quicktime .mov format. Recently I changed my targetted audience to direct views on my website and I am now using Flash Video FLV.
1. Video Format for Portable Media Players
If your target audience are people using portable media players such as iPod, Zune, Archos or Zen, you must encode your videos into a format which is compatible with the portable players. Aggregators softwares sometimes have the ability to convert your videos files into compatible formats but I don't think many users would bother to spend the time to do that.
iPod & iPhone players are compatible with the following video formats:
MPEG-4 (H.264/MPEG-4 AVC)
QuickTime video formats (.mov)
Zune players are compatible with the following video formats:
MPEG4 (in .mp4, .m4v and .mov containers)
H.264 (in .mp4, .m4v and .mov containers)
WMV (.wmv), ASF (.asf)
— If your target audience are people using portable players, encode your videos in MPEG4.
Here are some guides to help you out:
Creating MP4 files – ISO compliant MPEG-4 streams with AAC audio – Click Here
How to convert AVI, MPEG to MP4 ? How to encode video to .MP4 format using free mp4 converter ? – Click Here
2. Video Format for Aggregators and Feed Readers
Users might want to listen or view your podcast from their favorite aggregating service such as iTunes, Google Reader, Bloglines etc…
Google Reader, Bloglines and Thunderbird will not let you view the video from their user interface. The user has a choice to download the podcast video and view it from their computer or, click the link to the original article to view the video directly from the website.
iTunes will download the entire podcast video file and only after will you be able to play it directly in the software. iTunes is compatible with the following video formats:
Quicktime MOV
MP4
M4V
MPG
— If your target audience are people using aggregator software or online feed readers, you have a choice to encode your videos in Quicktime .mov if you absolutely want iTunes users to have access to your podcast videos.
I would recommend encoding your videos in Flash Video (.FLV) because everybody has the Flash player installed. Users can view the video by downloading it or watching it directly on your website. Flash .flv is incompatible with iTunes.
3. Video Format for Podcast Directories
Some people will find and enjoy your podcast files by using Podcast Directories such as podcastingnews.com, videopodcasts.tv or podcastdirectory.com
Most video podcast directories will only allow the user to download the file and watch locally from his computer. Some podcast directories will allow to play video files directly from their own website but it will only work for Quicktime .mov or Windows Media .wmv. I haven't found one podcast directory which could play Flash .flv movie files. Do you know one?
Unless your podcast is very popular, you need not worry about Podcast Directories. They won't have much impact on the number of total views since the directories are already too crowded and no one will see your podcast.
4. Video Format for your Own Website
Finally my favorite part and the most important! I would think most people's priority is that everyone visiting their website is able to watch the video directly from their webpage. Global Compatibility! To me, this is the most important because most of the people accessing my podcast media files do it directly from my webpages. This is also what I prefer because more visitors see my Google Adsense ads and I make more money.
You're lucky, choosing this video format is also a no brainer!
— If your target audience are people visiting directly your website, you need to encode your video podcast files in Flash .flv format. This will ensure maximum compatibility as 98% of the internet population has the flash player installed. For this reason, popular video sites like Youtube and Dailymotion encode their videos in Flash FLV.
How to encode your video files in Flash .flv:
Riva FLV Encoder Freeware – Click Here
Adobe Video Technology Center – Click Here
Free FLV encoder for Mac OS – Click Here
Definition of Flash FLV videos on Wikipedia – Click Here
Problems with Flash FLV for your podcast
Choosing to encode your videos in Flash FLV is the best solution for the moment but it is not perfect!
Most Portable media players like iPod, iPhone or Zune will not be able to play your videos.
Most podcast directories are not yet able to play FLV files directly from their websites but I would guess this feature is coming soon. The good news is that users can still download your video and watch it from their computer.
Your podcast videos will not work in iTunes
Solution for Podcast Universality
If you want everyone to be able to view and download your podcast files, you need to offer two types of video formats for every podcast show you create. Flash FLV for on site views and MPEG4 mp4 for off site views. If like me, you use Podpress for WordPress to manage your podcast, you have the option of offering many different files for the same podcast show.
Other articles about Video File Format for Podcasting:
How to use the smallest video format AND ensure compatibility – Click Here
Choosing The Right Video Format For Your Vidcast – Click Here
What Is Video Podcasting from Wikipedia – Click Here
How to Make a Video Podcast – Click Here
Video Format Comparison – Click Here