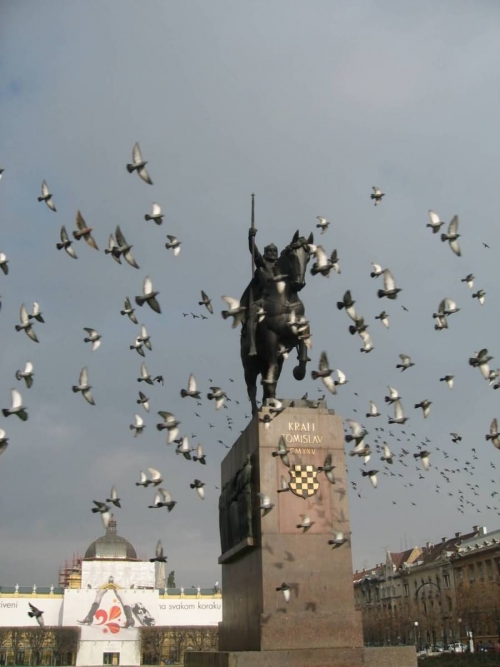 Zagreb in Croatia :: Pictures Galleries :: Euro Trip 2007
Photos taken during my Europe Road Trip
About my Trip to Zagreb ::
Zagreb is very close to the Slovenian border. The city is much bigger than Lubiana. When you enter the suburbs of Zagreb, you can't help to notice the humongous apartment buildings. Everything is huge and very spacey. 4 lane roads, huge sidewalks… You can feel the Soviets had been here! First time our Euros do not work so we got local kn currency. Life is cheaper than the previous countries. Excellent slices of pizza for 0.80 EUR, hostel for 10 EUR a night… As a smoker, I was happy to notice smoking was still permitted within public buildings. We could smoke inside the hostel room! First and last time this would be possible! Saturday night, Samy and I went to the Sokol night club next to the beautiful theater house. That place was so packed and the bouncer would keep bringing people in! The girls were as tall as I (1m82) and the guys measured 1m90 ! Samy was the smallest person inside the night club! lol! wow!
About Zagreb, Capital of Croatia ::
Zagreb is the capital and the largest city of Croatia. Zagreb is the cultural, scientific, economic and governmental center of the Republic of Croatia. The city's population in 2007 801,554. It is situated between the southern slopes of the Medvednica mountain and both northern and southern bank of the Sava river at an elevation of approximately 122 m above sea level.

Its favourable geographic position in the southwestern part of the Pannonian Basin, which extends to the Alpine, Dinaric, Adriatic and Pannonic regions, provides an excellent connection for traffic between Central Europe and the Adriatic Sea.

The area between the railway and the Sava river witnessed a new construction boom after World War II. After the mid-1950s, construction of new residential areas south of the Sava river began, resulting in Novi Zagreb (New Zagreb). The city also expanded westward and eastward, incorporating Dubrava, Podsused, Jarun, Blato, and other settlements.

The cargo railway hub and the international airport Pleso were built south of the Sava river. The largest industrial zone in the southeast represents an extension of the industrial zones on the eastern outskirts of the city, between the river Sava and Prigorje region.

In 1991, it became the capital of the country following secession from Second Yugoslavia. During the 1991-1995 Croatian War of Independence, it was a scene of some sporadic fighting surrounding its JNA army barracks, but escaped major damage. In May 1995, it was targeted by Serb rocket artillery in the Zagreb rocket attack that killed seven civilians.
Zagreb Links :: Zagreb Tourist Board :: Visit Croatia :: WikiTravel Zagreb
Zagreb in Croatia Picture Gallery ::
Photos Galleries of the city of Zagreb in Croatia