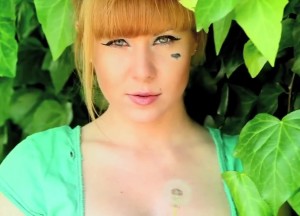 Ever just stumble upon music that is too incredible, it just takes your breath away?
That is how many people are feeling about the YouTube singer Angelika Vee. Having several hit songs ranging from Toyko Love to Guale in Romania she is now making it in the USA. Her YouTube channel features a great mix of songs. Her most popular video is a cover of Bleeding Love by Leona Lewis with 1.5 Million Views. Her channel collectively has 11,000,000 + Views and she has about 30,000 YouTube Subscribers.
YouTube is not what it used to be but it is still good – its a place where you can discover the next big thing just by browsing videos. Angelika is certainly a figure to keep on watching because there is no doubt she has the potential to make it big. Her voice is flawless as she goes from high to low notes – its pro – she's in tune and has a sound all of her own.
Angelika is also a classically trained pianist and an exceptional songwriter. Search for her original song Haunted Love – it's chillingly beautiful!
Angelika came to the USA from Eastern Europe looking to make it big, and she's well on her way.
What do you think? Do you think she's got what it takes?
http://youtu.be/Thx917UkTrY
Article by http://danifaith1029.blogspot.com.au/