New York, London, Paris, Munich… across the world, citizens of these great metropolises may well be talking about pop music – but Rome dances to a different beat. Yes, we're talking about the waves of dance venues that have overrun the Italian capital since disco's 1980s heyday. From tiny boutique clubs to vast venues capable of cramming in the entire population of Naples; Italy's premier city has it all. So join us on a journey across the capital, in search of a club that will keep you dancing till dawn:
Brancaleone
Vast, pulsing and sporting a crowd so rowdy you'd be advised to hire professional security; Brancaloeone is the mecca for all music lovers. With an eclectic mix of genres that sweeps from modern electronic to 'Reggae Night' on Thursdays, the Brancaleone has made it its mission to keep you dancing all night and into the morning. Although it was once the best club in town, these days the Brancaleone is on the decline – thanks to an increasingly rude class of tourist. Nonetheless, it remains worth a visit.
Circolo Degli Artisti
Featuring a mix of styles, the Artisti is your one-stop shop for anything electro or electro-influenced. New wave and electro-pop might dominate the headliners, but the range of DJs who guest-star are well-versed in giving the punters what they want – be it dance, euphoric or cheesy gay-friendly hits. Music aside, the garden is a great place for taking a breather and unwinding amid a heady atmosphere.
Rashomon
Modelled on the 'alternative' clubs of Berlin, this dark crypt of a club is strictly for those who like their music underground. You're unlikely to encounter any glow-sticks or euphoric feelings down here; but the DJs regularly serve up a slice of dance-inducing madness from the electronic music frontier. They also seem to have rather a soft-spot for New wave, which is fine by us.
Spice
The two rooms that dominate Spice are organised into strict categories: 'Happy' and 'House'. If that tickles your fancy, look no further. Famous for its myriad different parties and dedication to reliving the glory days of 1990; Spice is a deliberate throwback: a slice of nostalgia for people who wish they were partying twenty years ago.
La Nuit
If your idea of hell is being trapped on a Club 18-30 blow-out in Ibiza, avoid La Nuit at all costs. The rest of you, get down there double-quick. A haven for House music and an atmosphere that skitters along the precipice between 'wild' and 'decadent', La Nuit is a one-stop shop for all your clubbing needs.
Sinister
Spread over two levels, Sinister's stated mission for the year is to make people "move their butts", via an explosion of minimal electro – although they continue to offer a decent range of alternative nights. The furniture alone is worth a look; designed with a surreal 1960s vibe that hurts the eyes.
Saponeria
Deep House, scary visuals and all-night parties are the order of the day at Saponeria – a club devoted to spreading the gospel of House music via pulsing beats. Expect spinning eyeballs, reflector sunglasses and luminous colours galore, as music-loving locals twitch and grind until the sunrise.
Room 26
A clubbing experience so archetypal it might well be an ironic comment on clichéd youth culture, Room 26 serves up a wave of pool parties, all night dance-fests and beautiful wealthy young things gyrating the night away. If you love fist-pumping, flashing lasers and bright colours head on down and check it out.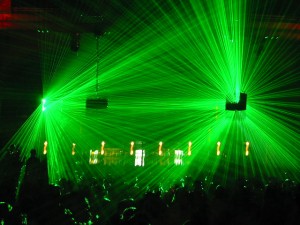 Spazio 900
A crowded warehouse, expensive drinks and flashing spotlights combine to make this sometime expo-centre an arcadia of clubbing, dancing and tenuous hook-ups best ignored. With screens playing psychedelic video art, bizarre stage decoration and a slam-packed roster of star DJs spinning crowd-pleasing hits; Spazio does for Rome what Rome does for Italy: puts it on the map.
Alpheus
Techno, House and rough crowds combine to make this most-spacious of clubs a strangely exhilarating experience: akin to how parachutist must feel the second before he pulls the cord. Delivering beats and freaks in equal measure, Alpheus is the Naples of clubs: violent, dirty and dangerous, yet somehow utterly beguiling.