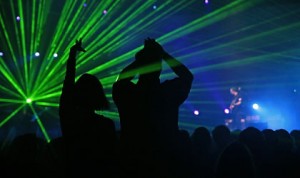 Forming the perfect date night in its self can pose challenges as we struggle to be creative and fun on every single date. But when it is a birthday date, the added pressure is on.
Consider giving her a day filled with stimulation of the senses: sound, touch, taste and sight. And why not take her to a great city? New Orleans is full of fun, and there is always something going on there. Furthermore, flights are cheap and easy to come by!
Sound
New Orleans has it all: world-class dining, lots of history, a lively nightlife, and hidden treasures around every corner. Start by choosing a theme for the birthday. In this case, let's use music as an example. The Dave Matthews Band will be performing a show in New Orleans on April 28. Take her to New Orleans the day prior to the concert and surprise her with the tickets over breakfast the following morning. Then tell her the day has only just begun.
Concert tickets are a great way to end a daylong date. After spending quality time with one another in hours of conversing and exploring the city, letting the sun set on a night with live music will provide a perfect finish.
Touch
New Orleans has an incredible antiques district. Spend a few hours exploring some of the French imports and fine silver. These shops are also a treasure trove for strange little oddities such as a lady's Victorian snuffbox or an artificial leg from the civil war era. Pick up the objects in your hands. Talk about them. Ponder the history behind them. And purchase something for her as a memento to your special day.
Taste
New Orleans is a festival of foods. You can hit up a few oyster bars. Visit suburbs and experience local Cajun comfort food, or hit an upscale Creole or French restaurant. You will want to feel nice and full for your concert, so chuck your diets to the wind. You can even try alligator meat while walking down Bourbon Street and sipping some of the house specialty cocktails that numerous bars boast as being the best in town.
Sight
Enjoy walking through the Garden District and behold the beauty and splendor of the old plantation houses. Some of these homes were build in the early 18th century and have some stunning architectural details. Their deep lines and ornate features offer a true feast for the eyes.
Finishing off the night
Music is a great way to celebrate your loved one's birthday. In an article that stresses how the concert is a great date idea, the author advices the person planning the day to do things that lead up to the concert so it can end as the climax of the day. The article says to buy your date a piece of memorabilia at the concert like a T-Shirt or a special program. This way she can cherish the item after the concert is long over. You should also encourage your date to let loose at the concert. Some women might feel self conscious about screaming and shouting in front of that special person. Grab her hand and hold it up and scream a bit yourself—chances are she will follow suit. This will help her let her guard down and abandon any insecurities she may have.
Just make sure you plan ahead, and give her the best birthday vacation of her life!
Image source: http://datedaily.mate1.com/wp-content/uploads/2009/08/8_music_dating.jpg