One day my friend Grichka lent me his Sony Digital Camera back when i studied in London . First thing i did was to try it in the Underground London Tube aka: Metro Train. So many people travelling on this London Transport , going from point A to point B. Very little people don't have a place to go in the London Metro Tube. I must have been the only one in the London Tube without a destination. I was underground just to take pictures and enjoy the ride!
Here's a little summary of the places i've lived in, just in case you are wondering when the photos were taken.
2006-2007 Tarn, France < it sucks big time here
2004 – 2005 Bayonne, France
2003 – 2004 Paris, France
1999 – 2002 Montreal, Canada
1997 – 1999 Copenhagen, Denmark
1996 – 1997 Maison-Laffitte, France
And before that i lived in Casablanca, Morocco for 2 years, Montreal for 6 years and lived in Brussels for my 2 first years. Thank you daddy!
Guy Sitting in the London Tube :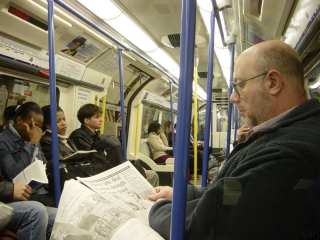 Pictures of the Metro Tube in Underground London :
More Amazing Photos :: Beautiful Random Photos :: Narbonne Plage :: Back From Paris :: Sexy Jessicas