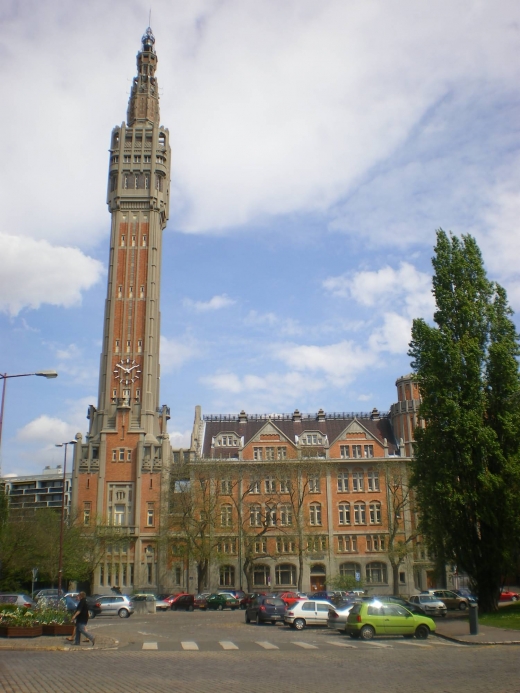 City of Lille in Northern France – Picture Gallery
Lille saw Charles de Gaulle's birth and growth who's house is now a museum. The General Louis Faidherbe, director of Senegal, was also born in Lille.
The scientist Louis Pasteur was born in Dole (Franche-Comte), was appointed professor of chemistry and dean of the Faculty of Sciences of the city from 1854 to 1857. A statue is dedicated to him and the Pasteur Center of Lille is one of the largest in France after Paris.
The actor Philippe Noiret and the humorist Maxime and media stars Nicolas Hulot, Bruno Masure, are from Lille.
The architectural heritage of Lille stretches from the Middle Ages novel (crypt of the collegiate church of Saint-Pierre). With Gothic churches Saint-Maurice and St. Catherine, Renaissance (Beaurepaire building and house street Bass), Flemish Mannerist with the Old Exchange or the house of the Gilles Boë. Classical with churches Saint-Etienne and Saint-Andre as well as the citadel of Vauban. A city covered with old buildings of the seventeenth and eighteenth century style unique to the city. With neo-Gothic buildings the Catholic University and the Cathedral of Notre-Dame-de-la-Treille. With art nouveau home Coillot which is the architect Hector Guimard, Hausmannien rue Faidherbe, neo Lille with the new scholarship, art deco hotel with regional City and finally the modern skyscrapers of Euralille.
The ramparts that surround the city since the Middle Ages until the nineteenth century remains:
Noble Tour (memorial deportation) of the fifteenth century.
The door of Ghent and the door of Roubaix (late sixteenth early seventeenth century).
The door of Paris (mid-seventeenth century), built in honor of Louis XIV.
Citadel masterpiece of Vauban as well as parts of fortifications drowned in the green at the end of the Avenue of the Belgian people.
The door of Dunkirk (early nineteenth century)
Lille French City Links :: Wikipedia :: About :: UK Student Life :: France for Visitors
City of Lille in North France Photo Gallery ::