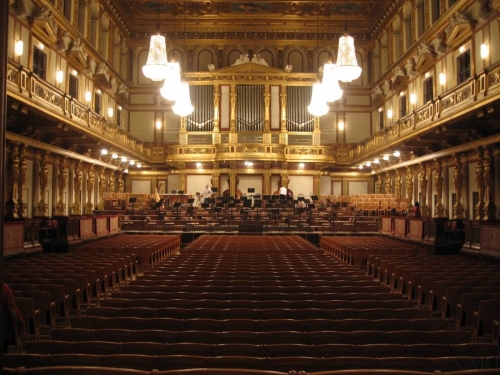 Vienna Philharmonic : Musikverein in Austria
Photos Gallery and Podcast Video
Photos and Video taken during my 4600km Road Trip in Europe
About my Experience at the Vienna Philharmonic ::
This was one of the highlights of our trip! If you go to Vienna, you MUST assist to the Vienna Philharmonic, regularly considered as one of the finest in the world. Vienna is famous for it's music, it's a must! We sat at the very front on the second row of the Grosser Musikvereinssaal Golden Hall. That night, the conductor for the Vienna Philharmonic was Fabio Luisi, Adrianne Pieczonka was the vocalist. We were amazed to see the concertmaster (the first violinist) cry for 15 minutes during Ms. Pieczonka's performance. The guy has more than 30 years experience and still feels this profound emotion which translates into tears. WoW! A beautiful moment that was!

TIP :: Tickets for such high end events usually cost more than 60 EUR a piece. We paid 10 EUR each for the best seats! The trick is to show up at the ticket office one hour before the start of the concert. They open to sell the remaining tickets at a fraction of the price. A queue will form outside the ticket office so you must not be late otherwise it will be sold out.
About the Vienna Philharmonic and Musikverein ::
The Vienna Philharmonic was named as Europe's finest in a recent survey by seven leading trade publications, two radio stations and a daily newspaper. Attending a VPO concert is a feat not to be undertaken lightly. While on international tour, tickets are typically, at the minimum, double what one would normally pay to hear the local orchestra. Ticket demand for the Vienna Philharmonic at their home, Musikverein, are listed on the orchestra's website as being completely sold out. The waiting list for weekday concert subscriptions is six years and thirteen years for weekend subscriptions.

The Musikverein in Vienna, Austria was opened on January 6, 1870, and is famous for its acoustics. It is considered to be one of the three finest concert halls in the world. The Goldener Saal (Golden Hall) is forty-eight metres long, nineteen metres wide, and eighteen metres high.
Vienna Philharmonic & Musikverein Links :: Official site :: Youtube Video :: New York Times
Program for that evening of Musical Mastership
Wiener Philharmoniker & Golden Hall Photo Gallery ::
Vienna Philharmonic & Musikverein
Vienna Philharmonic directed by Fabio Luisi VIDEO ::

VIENNA PHILHARMONIC Fabio Luisi
[ 2:10 ]
Play Now
|
Play in Popup
|
Download
(1115)