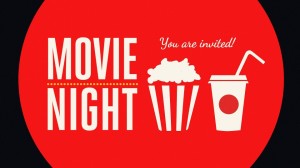 You're hung over, on a budget, but still want to get together with your mates this weekend, so what better gathering to host than a film night round yours? You don't need a home cinema system or to leave the house at all, ideal for second/third year students in private accommodation with living rooms. Read on to make sure you have the essentials for throwing the perfect film night at your house:
Television
Bit of an obvious one there, but more and more students are choosing to save money by not having a television or TV license at all. A television at a film night is recommended however as it's not ideal to have all your friends huddled round your laptop. According to licensing laws, you only need a TV license if you use your television for watching or recording live TV, so you can watch DVDs, play video games and use catch up services such as BBC iPlayer without getting in trouble if you have a television in your bedroom or living room. If your film is on your laptop, invest in a HDMI cable if you have a HD ready TV to stream it from your laptop, making sure to adjust screen resolution and sound options accordingly.
Speakers
If your television's volume is ridiculously quiet or you feel your laptop needs some extra volume, it's a good idea to purchase some good quality speakers. You won't need any state-of-the-art subwoofer or high tech ceiling speakers, often USB speakers will do the job perfectly and can guarantee everyone in the room can hear the film. A good pair of audio speakers will also help out at house parties and other socials throughout your student life, so they're a worthwhile investment.
Seating
People won't want to stay long if they're uncomfortable. You'll find any sofa space will be quickly occupied, but for those who have to resort to sitting on the floor its ideal to provide cushions, beanbags and blankets so they're comfortable throughout the film. If you can't provide it, advise others to bring some stuff with them in advance.
Snacks
Crisps, chocolate, popcorn – all the standard junk food is obviously required at a film night, as let's face it, no one wants to eat carrot sticks. It's good idea to have everyone contribute, by either asking people to bring snacks along or at least have some money on them so you can pop to the shop and get some supplies. You could also finally use those fast food leaflets and coupons which have been clogging your letterbox and order a greasy takeaway.
Drinks
It's a fact – students can come up with a drinking game for any genre. Ask guests to BYOB so they have their drink of choice, as well as provide some staple alcoholic drinks like vodka, rum and plenty of mixers like lemonade and cola for who others may not feel like drinking. It's also a good idea to purchase some large plastic cups for the night to save your best mugs and glasses being smashed, dropped or lost somewhere never to found again.
DVDs
It's not a film night without something good to watch, but rather than stick to one category for the night, provide a good selection of genres so there's plenty available to choose from. With horror films for example, it's a good idea to have light-hearted comedies available to watch afterwards, and even if it's a girl's night in, have films which aren't just romantic comedies, as believe it or not, not all girls like The Notebook. They don't have to be critically acclaimed 5 star films either, as sometimes the best bit of a film night is making fun of the dodgy special effects or dialogue, so be sure to pick up a few B-movie bargain bin films for good measure.
About Author
This article is written by Chris who loves to watch movies with his mates on weekends.