On September 16, 2007 something happened at Google's. My blog traffic just jumped like crazy! =-) Five folds!
I had an average of 150 visitors a day (not much!) and in the last 10 hours, i've received 600 visitors! I made almost eight bucks on Adsense just for September 16. A record! I usually make 1 or 2 bucks per day.
WHY? All this traffic because of one post featuring pictures of Jennifer celebrities : Lopez, Aniston, Garner, Hewitt , Connelly. Before, all the images were blocked by google's safesearch and now, all my images have been granted the right to appear on safesearch enabled serps. In addition, my photos are pretty well placed in the serps results! That helps! But for how long?
The Story :
I sent an email to Google a couple weeks back because i had noticed all my images appearing on Google Image Search were only visible when "SafeSearch " feature was turned off. None of my images have any nudity! I have some sexy photos like the one featuring Jennifer Lopez that ended up first in the Image Search ! When someone searches for "jennifer lopez" in Google Image Search, one of my images appears first! And SafeSearch is turned on! So Google has already blocked all the adult content and my images still appear!
YEAHHHHHHHHHHHHHHHHHH !!!!!!!!! THANK YOU GOOGLE !
You really did read my email and did something about it! I'm happily impressed! Google didn't explicitly tell me they were going to do something about my issue so i'm not 100% it wasn't just luck… But i think they did do something manually. When you search for "Jennifer Lopez", my photo is the most explicit of all the photos on the page. On my photo, Jennifer is only wearing a bikini ! Pretty well dressed on all other photos! So according to these results, Google safesearch standards might have to block my images ? Maybe they are slowly increasing the degree of visual nudity for us to adapt to. More porn on the internet! Well either way i'm very happy about the results!
Will it continue?
Will i continue to receive thousands of visits every day thanks to one single post which is currently well indexed in Google Image Search SERPS . No. As you can see on the screenshots, traffic from Google Image Search varies significantly! My Jennifer Lopez photo might disapear tomorrow. Some different pictures might appear while others gain or loose popularity. Some aspects of Image Search feature i do not comprehend, i don't see a logic. A lot of the results seem to be a good guesses. But let's not forget Google has to deal with million of images from all over the web! How to select a few images that will appear first in the serps? Can't be an easy task!
Well i'm happy for now, i'll keep posting quality content which is most important; for you and the SERPS.
Update :: I'm now finished writing my article. It took me 20 minutes. My Jennifer Lopez Image went from first in SERPS to the third page! Unbelievable!!!! That was quick! Only a couple hours! =-( So i am no longer receiving loads of traffic from my one Jennifer image. Snif snif… Didn't think it would be that quick! Wish i had a few more days of glory! Oh well… All my other Jennifer pictures are still reasonably indexed in Google Image.
The Data :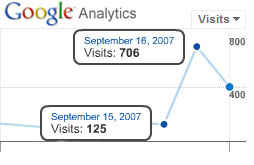 Google Analytics Results :: On Saturday, Sept 15, i had received my usual amount of traffic : 125 visits. On Sunday, Sept 16, my traffic has gone to 706 visits! Increased by more than five folds!

WordPress.com Stats :: One of the great wordpress plugins i discovered is the very helpful wordpress.com stats. With the same API key you use for Askimet , you can get an additional source of information about your blog's traffic. And it's Free! Just signup for a WordPress.com account .
My statistics graph starts on August 19th and until September 16th, my stats aren't very impressive! An average of 400-500 views a day. And then a JUMP to 2277 views ! Today is September 17th and the day is not over. I might be able to get as many visitors as yesterday?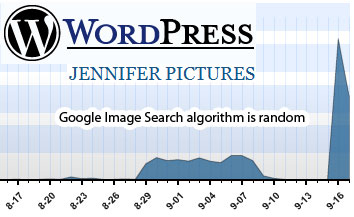 WordPress.com Stats :: This graph shows the evolution of views for one single post; my great Jennifer Pictures post . Thanks to which i am currently getting hundreds of visitors a day! This page isn't very powerful in normal Google serps but sometimes is in Google Image serps! Most people who visit this page come from Image Search engine.
I posted this article on May 17th and until the end of August i did not receive many visitors. Google Image search indexed my photos on August 28th but SafeSearch had blocked my site's images. Then Sept 10 until Sept 15, Image Search decided to unindex my photos. Strange… And finally, Sept 16th, Google removed the SafeSearch Image block from my entire site's photos, indexed back my Jennifer pictures AND placed them very well in the Images SERPS, giving me more power in this virtual world called Internet!
I'm no Image Search Expert but you have to admit it's weird! A lot must be going on at Google's! And the change happened on a Sunday! These guys even work on weekends!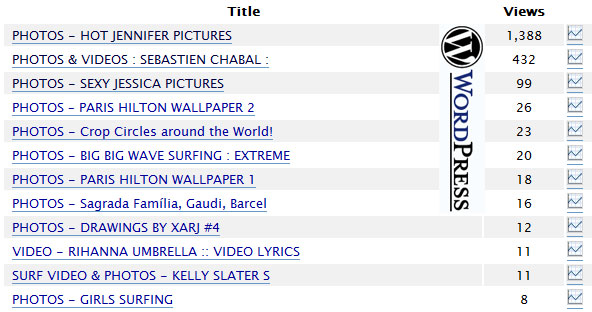 WordPress Top Posts Stats :: This screenshot brings me back to earth. These statistics are from Sept 16. If my post on Jennifer wasn't so popular, my stats would be back to their usual ratings. Ok, the article about Sebastien Chabal got quite a few visits but that's because i spent an hour on Sunday, submitting the newly written article to many Social News sites like Digg, Thoof, Scoopeo etc… When you do that, Google indexes your article right away!
Conclusion :
When i saw yesterday's statistics, i jumped out of my chair! I like blogging and I can see a futur in it. I spend a lot of time analysing my traffic's results and get very excited when a jump occurs! I know it will not last but maybe some future articles will grab people's and the search engines attention to procure different landing pages. I have to admit i am surprised my blog's speciality ( my personal music creations ) doesn't bring more visitors. Free music, quality mp3s…
I would LOVE to be able to live from blogging! If i made more than 1000 bucks a month, it could be a reality! Some more serious blogs make huge amounts of money from advertising; That's Sick! =-)
Related Articles :
Image Hotlinking and Google Image Search :: How to Monetize your WordPress Blog :: Avoid Duplicate Content