Ultimate SEO Guide to Google Image Search
I have compiled a list of recommendations and useful informations to help understand and improve your rankings in Google Image Search. I also mention the competition; Yahoo and MSN. Get your images into this great search engine and enjoy traffic increases. My Blog and Podcast gets some nice traffic from Google Images. Thanks Google! 😉
If you have any comments about some points in this article, feel free to leave a comment below.
Signup to my Internet RSS Feed to get my latest articles. Bookmark this article in your favorites.
---
*
The Basics
1. Check your Indexed Images
To check which images Google Image Search has indexed from your site, type in : site:yoursite.com in Google Image Search
You can also check for Live Search (Microsoft) and for Yahoo Image Search.
2. Google Image Interface
Under each indexed picture thumbnail, one or two lines of text chosen by Google to describe your images. This description can have a maximum of 35 characters. Google displays the size in pixel, size in bytes, the filename extension and the domain name using the image. At the top of the page, you should read "Moderate SafeSearch is on". When it's on, adult pictures are filtered out of all the results. It's sometimes interesting to see the different results with and without the option turned on.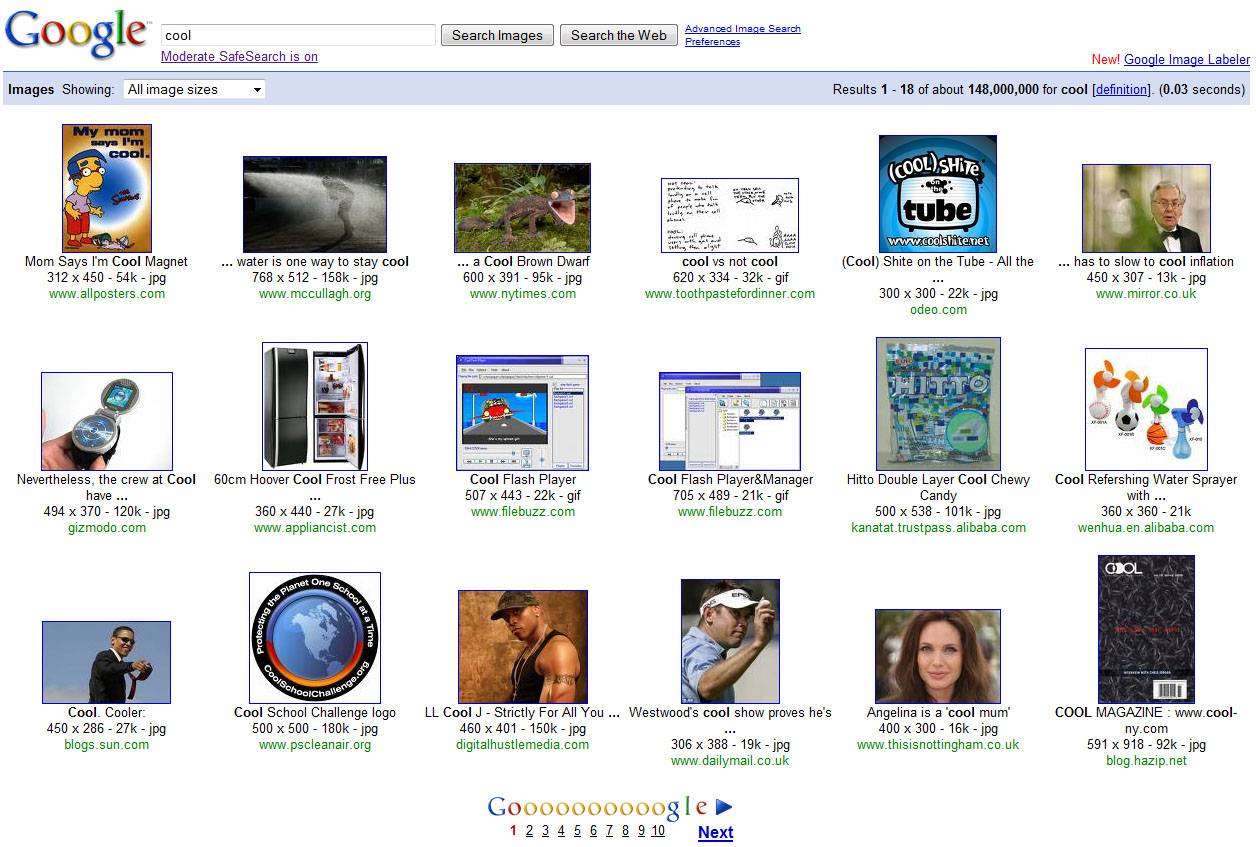 When you search for any keyword, by default "All image sizes" are show in the serps but you can choose to see pictures in various sizes: Small images, Medium images, Large images, Extra Large images
Recently, Google has added a face recognition algorithm which enables you to search only within images featuring faces. Click on "Advanced Image Search", in "Content types – Return images that contain", check mark the option "faces". Or you can simply add "&imgtype=face" at the end of the url. It works surprisingly well!
3. How much Time to Index your Pictures
Most of the time, Google Image updates are very slow! It will take a minimum of one month for Google image to index your images. I've even seen an image take up to a year before appearing in the Google index.
4. Which Images are Indexed
Google will not index every single image on your website! I suspect Google to index a certain percentage of the total images available on your website. For my site, Google must have indexed about 30% of my total image library. If your site is very trustworthy, Google might increase this percentage to 60% or 80%. This is a supposition! If you absolutely want Google to index the images on your page, get some backlinks pointing at the page. I do not know how Google decides which image they will index on a page, it seems very random!
5. Which Keywords point to your Site
When you check your site's indexed images, some text appears below your images. This text is the keyphrase people need to search to find your images. Try searching a couple keyphrases to see if your images appear in the top of serps. Depending on your site's rank, they might not always appear in the first pages!
Note -> In the Google description, if you see "…" (three dots) before the description, google has most likely chosen some random words inside your post to describe the image. The description is often way off topic. On the example below, the correct description appears on top and bottom of the image, the alt title description tag reads "Guy reading newspaper in London". But no, Google uses irrelevant text in the paragraph above. Weird…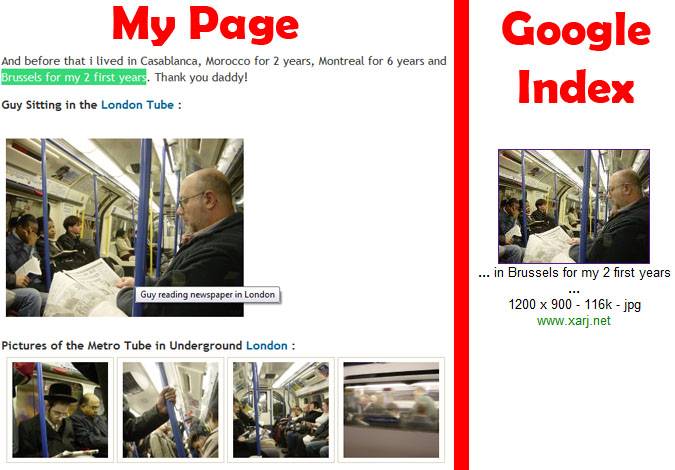 ---
*
Tips and Tricks
6. Where to Add your Keywords
In some occasions, Google might choose completely random and inaccurate text from your page to describe your image. There are a few things you can do to help Google decide which text to use for your image description.
Add keyword descriptions at the TOP and BOTTOM of your image. If your image has a link pointing to a bigger version of the picture, then I recommend including the top or bottom text into the <a></a> link tag. You are telling Google the text describes the image. IMPORTANT -> Google prefers to use the

text above your images

. I've learned this the hard way!
Include your keywords into the paragraphs around your image
Image Alt & Title Tag :: Add your image description inside the image link using the code -> alt="Your keywords" title="More keywords"
Filename of your image should contain your keywords. ie: my-keywords.jpg
Wrap text around the image using style=float.
NOTE -> Make sure the first characters of the text above the image start with your keyword. On the example below, Google has used the first sentence above the graphic to describe my image. My sentense starts with "2190km :: Zagreb…" which is not seo optimized. I should put "2190 km" at the end of my phrase.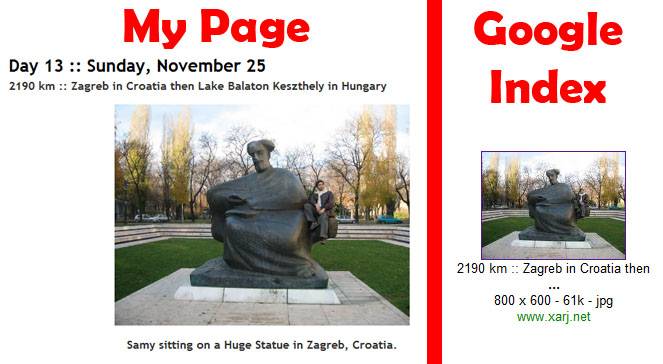 7. Host your Images Yourself
I recommend hosting your images on your own web server! Do not upload on flickr or image hosting services like ImageShack, PicOodle or PhotoBucket. Google might point the link to the hosting service instead of your page and one day the hosting service might disappear!. If you are serious about having a website or blog with worthy images, get a good hosting plan so you can host your own images!
8. Best Image Size Dimensions
Display your pictures in as high resolution as possible. The maximum width for displaying photos on my blog is around 520 pixels. I generally link my images to bigger versions (1200px), I simply reduce the dimensions inside the WordPress wysiwyg editor. Google likes big pictures and will index the full size file. If your thumbnails have filenames which are different from the full size filename, Google should notice it's the same picture and only index the bigger size photo.
9. Is your robots.txt blocking your images
Sometimes a badly configured robots.txt can stop your images from getting indexed by search engines. Verify on your site yourdomain.com/robots.txt and check if any of the directories correspond to where your images are hosted on your web server. If they are, then remove those directories asap!
10. Link to your Image
When possible, you should insert a "href" link on your image pointing towards the .jpg filename. This way people can click on your image to see it full size and alone in the browser window. You are telling Google the image is important enough that it deserve to get clicked on to be viewed separately from the page's context. This will get you some extra points for good indexation.
11. Webmaster Tools Google, MSN, Yahoo
Use Google Webmaster Tools. Goto Dashboard > Select your site > Tools > Enhanced image search and check the option "I would like to enable enhanced image search on my site and am authorized to opt into this advanced service". Create and submit your xml sitemap. Also use Microsoft Webmaster Center to add your xml sitemap and get some interesting statistics. Yahoo's webmaster central is called Site Explorer and you should also use it.
12. Google SafeSearch blocked your images
Google Safesearch has blocked your images from appearing in the normal Image serps. Google thinks your images are not appropriate for the younger audience. The only way to see your indexed pictures is by removing the safesearch option. If this is the case and your image do not contain adult material, you need to contact Google about this issue. Select "Report a Problem" then "Inappropriate or irrelevant search results". They have helped me out! Are the Safesearch filters too sensitive? Click here to read more.
13. Breaking the Google Image Frame
Breaking the Google Image Frame is when a user clicks on a thumbnail image in serps, Google sends to the external webpage and should display the Google frame at the top but instead it disappears from the browser window.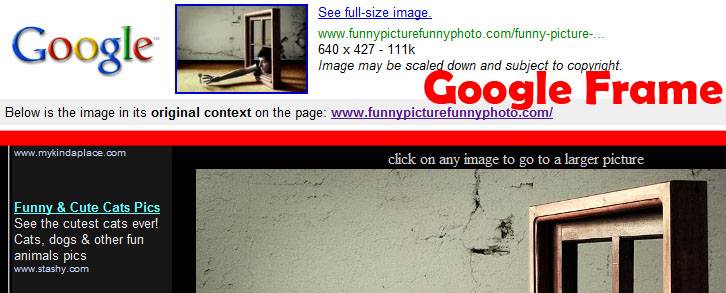 Some websites use this technique to keep the user on their page and not allow them to return to the Google Image serp listing. Google could not like this behavior and might remove your image from their index so I do not recommend it. Some people say it would not affect your listings but I'd be too afraid to try it out! You can find more info about Breaking the Google Image frame Here.
---
*
Hotlinking – Hijacking Images
Google Image still allows hotlinking and hijacking of image serp listing! One site can hotlink or hijack your images by displaying the picture on their website or simply by putting a text link pointing to your image. As a result of hotlinking, two problems can arise for the site hosting the image: Extra bandwidth costs + Loosing the Google link bringing you tons of traffic.
14. Are your Images Hotlinked & Hijacked
One way to find out if your images are being hotlinked and hijacked is to search in Google Image for site:yoursite.com. Look at the url below each image. If any url is not your own site's url, then your image has been hotlinked. In this case, Google will index new keywords for the image and it might lose it's prominent place within search results. If the new keywords associated with your image contain adult language, this could be harmful to your website's trust and pagerank.
15. Why does Google still allow HiJacking
Your image gets indexed by Google and is seen in the first page result. You get loads of new traffic. Someone hotlinks your image and Google decides to send the link towards the thieve site. I believe the site hosting the image should always get the link! How can it be otherwise? Does Yahoo and MSN allow that?
16. Hotlinking Protection
I currently have a protection that replaces all hotlinked images with this image. You can find out how to protect your images and bandwidth Click Here.
Using a htaccess protection will NOT harm your google image listings! I've been using a protection for almost a years now and new images still get indexed.
You can also send an email to the webmaster to ask him/her to remove your photo. Last resort is the DMCA notice. Send the paper work to Google and the hosting company. This procedure can shut down the entire website. Info on Google, Wikipedia.
17. Random Hotlinking Hijacking Facts
HotLinking via a simple text link is almost as efficient as hotlinking through img src (showing the picture on your page).
If you hotlink an image and hijack the serp link, Google will not keep your link indefinitely. You might keep the hijacked link for one or two weeks. More traffic on the short term but on the long term, there are more benefits to host your own image and NOT hotlink!
In your blog post, if you display one image hosted on your server and hotlink another image, Google would index your self hosted image and you could maybe even hijack the second hotlinked picture. Double benefit!
18. People still Hotlinking my images even with Protection
A lot of people hotlink my images even though I have a hotlinking protection showing a different image in their blog post. These people obviously would not hotlink my images if they had noticed there was a protection. This is because their web browsers cache has already cached a good copy of the image when they visited my blog post. They will only notice the protection once they restart their browser (cache is reset) and return to their new blog post. To make sure an image does not have a protection, I test the photo link in different web browsers. If the image appears normaly, then you can safely hotlink.
19. Instead of Hotlinking, Grab the Picture and Resize
If you find a great picture you would like to include in your Blog Post do not Hotlink to it, instead download the picture and resize it. By creating an image with different size and dimensions, you are avoiding duplicate content issues with the original picture and Google could also index your new image.
---
*
Findings about Google Image
20. Best Place to Appear
When searching for certain queries in the web search, Google might display three thumbnails at the top of the serp above the web search results. When clicking on those, you'll be sent directly to the external webpage displaying those pictures. If you get one of those thumbnails, it's really golden! Tons of traffic! My site gets a couple of those! 😉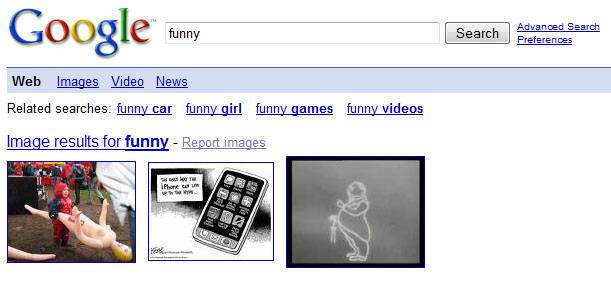 21. How many Images for a Single Query
Google Image will often display two images from the same webpage for a single query. This is a limit and I've rarely seen more than 2 images appear from the same domain for a certain keyword, but it does occur.
I recommend adding at least 2 images aimed at the same key phrase on any particular webpage or blog post. So instead of posting one picture of Michael Jordan, post two or more in the same blog post. This two image limit enables more sites to appear for a certain keyword search so no site gets all the traffic!
On the contrary, I've seen up to 8 images from the same domain appear on the first page results of the Yahoo Image index. This is not very fair Mr Yahoo! I'm not sure about Microsoft Live Search.
22. Google Slow to Index Modifications
I received an email to request the removal of a copyrighted image which appeared first in Google Image for a very important keyword. I do not want to receive a DMCA notice so I put a different image with the exact same dimensions. Two months later Google image is still showing the original picture and I am still first for that important keyword. Google has not cached the new picture!
Does Google not update their Image search engine very often? Did they not notice I had changed the picture? How could I still rank first for an image that doesn't exist anymore? I find it very strange but I am quite glad it has stayed that way as the image brings in loads of traffic!
23. Traffic from Google vs Microsoft vs Yahoo
From my experience, an image indexed in Live Search (Microsoft) brings in as much traffic if not more than Google but I might be wrong. It is harder to keep an image link in Live Search. For some strange reason, none of my images have ever appeared in the Yahoo index so it's hard to compare Yahoo to Google or MSN. According to Alexa, Yahoo is the most visited website on the internet, Google in 2nd and MSN in 4th.
24. Weird Indexation
If you have a paragraph of text not far above your image, Google might use random parts of the last line as keyphrase description. Weird choices sometimes. Note -> Google has also indexed the other words around my image, as result, my image still appears for key phrase "Alicia Minshew".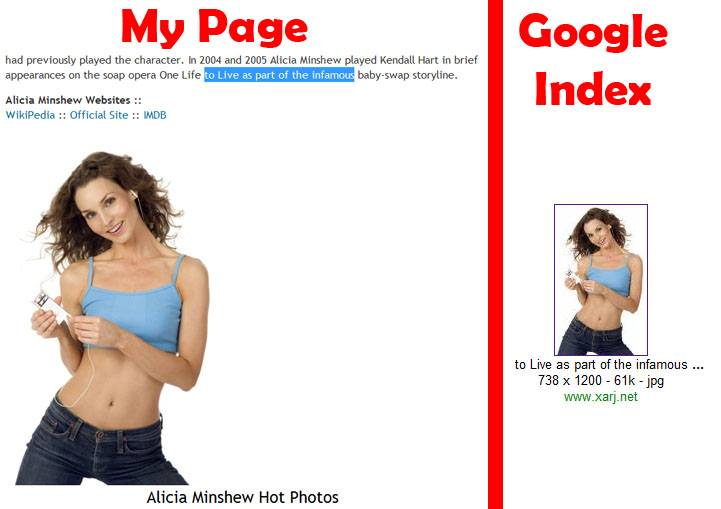 Another example below of Google choosing pretty random text from the page. To describe my "Surfer Wiping out", Google chose the date first followed by the beginning of the article title. Not very good Mr Google!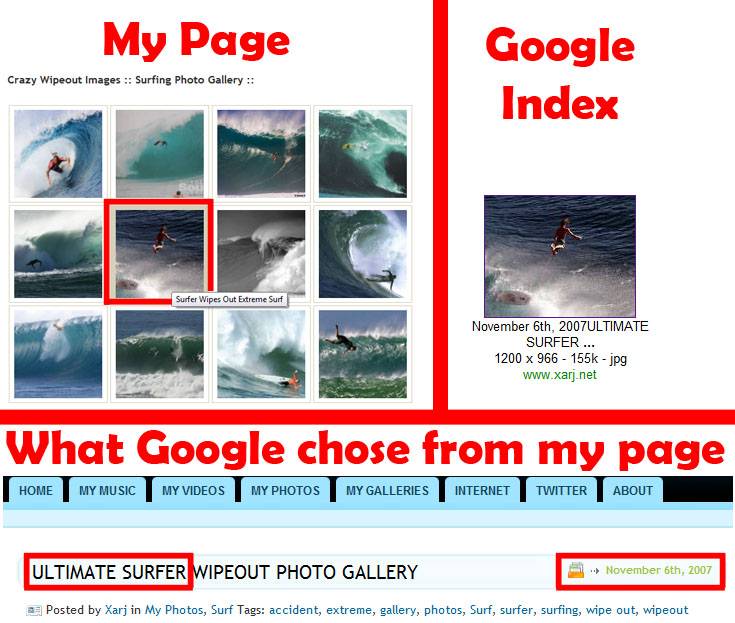 ---
*
More Information
25. Needs Improvement
Google Image still needs to work on the "Extra Large images" search results which are really off-topic except for very popular keywords and key phrases.
26. Future of Google Image Search
Same as regular webpages or blog posts, Google should soon or is already using link popularity for images. Pagerank for images. The more links pointing to a certain image, the more popularity and trust the image has and the higher up in the Google Image listings. Click here for more info.
The future of Image searching is called VisualRank. This new software technology intended for graphic images will be able to analyze and detect the contents of a photos or picture. The new algorithm has been presented officially late April 2008. Click here for more info.
To help the Visual Rank algorithm be reliable, Google has been offering the Google Image Labeler. This competitive game asks people to correctly match keywords with images. With thousands of people humanly labelling millions of images, Google has learnt a lot and will use this information to create the future of image searching; Visual Rank. More info about the Google Image Labeler.
27. Interesting Articles
A porn company sues Google because Google Image indexed and displayed thousands of images which belonged to the porn company. Click here to read the article.
Questions
Why doesn't google use the image alt & title tag to describe the images in Google Image Search? On my site, these keywords always properly describe the image content.
Does Google Image prefer to index small, medium, large or extra large images? I would say it prefers between 500 to 1200 pixels
Do other Image search engines like Yahoo Image and MSN Image allow for hijacking of image serp listing?
How does Google Image react to the smaller thumbnail version of a same image? Will it not index the thumbnail version and keep only the full size? I think most of the time Google will only index the full size image.
Which image search engine brings in the most traffic? Google, Yahoo, MSN?
How does Google decide if it will include your images into the country specific Googles. example: google.fr, google.ca, google.co.uk etc…
When will Google use the EXIF tags?
Is it better to specify the dimensions of the image inside the img src tag?
When someone hotlinks your image, does that link count as a backlink? A link back to your blog post would be better than a link to your image but how much link juice is passed through an image link? Does your article featuring the hotlinked image get promoted a little bit? I think only the image gets link juice, not the article… Any thoughts?
Conclusion
Google Image is very important for websites displaying images and has the potential to bring in huge amounts of traffic! Google Images search engine still has a lot of room for improvement which is why it is essential to help Google Image properly index your images by following the few rules I have written above.
If you have any comments about some points in this article, feel free to leave a comment below.
Signup to my Internet RSS Feed to get my latest articles. Bookmark this article in your favorites.
My other Articles about Google Image